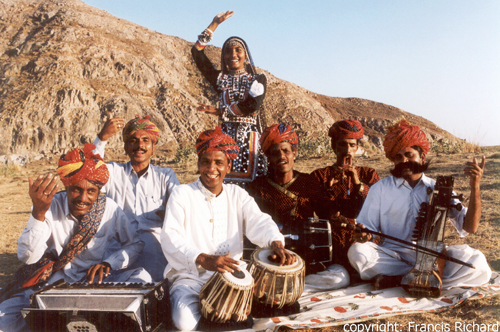 Conceived in France 1995 by Hameed Khan, a tabla player, Musafir was composed of groups of musicians who in Rajasthan would not play together, but here created an exciting fusion. Hameed Khan's background in jazz, Arabic music, North Indian Classical music, Breton music, and various crossover styles produced an eclectic aesthetic.
Hameed's inspiration was to showcase Rajasthan in a "folkloric cabaret." Musafir's original compositions combined Rajasthani rural folk music with influences from Qawwali (Muslim devotional music), Indian film music, Arabic popular music, and Hindustani (North Indian Classical) music.
Musafir ("Traveler" in Farsi), from Rajasthan in northwest India, dazzled European audiences with its energetic hybrid versions of Indian folk and popular music, acrobatics, and feats of physical endurance. Musafir performed to enthusiastic crowds at hundreds of concerts and festivals all over Europe, such as WOMAD, Roskilde, Paleo, Sfinks, and Ritmos.
Musafir was featured on the CD "Gypsies of Rajasthan" (Blue Flame) and some members appeared in the film Latcho Drom, a staged documentary of Rom music. In "The Gypsy Caravan" a musical component of Musafir portrayed the symbolic and historical connection of the Roma (Gypsies) to northwest India.
The artists in Musafir were not the actual ancestors of contemporary European Roma but rather suggest some of the occupational and artistic niches that Roma might have occupied in Rajasthan. The term Gypsy was applied by the British to numerous nomadic groups in India who have no proven relationship to European Roma.
The band was composed of professional musicians who inhabit the Thar desert in northwest Rajasthan. They were members of the Langa, Manghaniyar, and Sapera groups.
The membership of the group was variable. In 2000 the band was formed by Bachu Khan Langa, Shayar Khan Langa, Barkat Khan Langa, Sayeri Sapera, and Sakur Manghaniyar.
In 2000 most of the key members of the group split to form another band called Maharaja.
Discography:
Gypsies Of Rajasthan ‎(Blue Flame, 1997)
Dhola Maru (Sounds True, 1999)
Barsaat (Blue Flame, 2005)