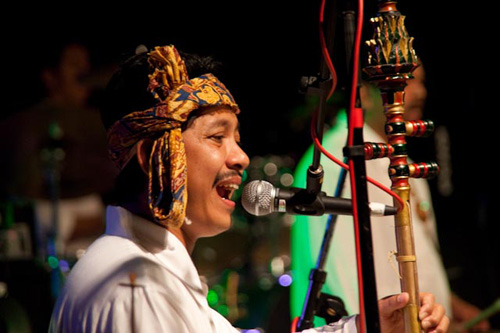 Multi-instrumentalist Mohd Kamrulbahri Hussin (a.k.a. Kamrul) is the leader of Malaysian world music band Asika. As the head of Asika, Kamrul has performed as a multi-instrumentalist, composer and music director in all manner of professional productions nationally and overseas. His performances include traditional and modern music. Major in percussion, Kamrul is a remarkable percussionist and traditional music artist. Combined with his style and skill, Kamrul has become one the leading Malaysian percussionists.
His skill, dedication and passion especially with traditional percussion has led to international tours, with performances in New York, Paris, London, Toronto and other. Kamrul also has a strong passion on Wayang Kulit (Shadow Puppet). Graduated in traditional and western percussion at National Arts Culture and Heritage Academy (ASWARA). Kamrul has been awarded for Best Arts Motivator from National University of Malaysia in 2002.
Instruments – gendang, rebana, serunai, conga, jembe, darbuka, vocals, rebab and more.