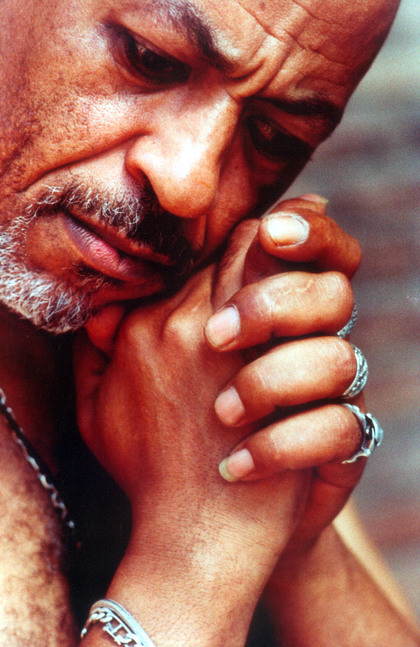 In 1980 Abdeljalil Kodssi recorded his first album with the group Mlouk el Hawa, followed by four more in the following four years. Until that moment, despite coming from a musical family, he had worked as a barber, playing in his spare time in his hometown of Marrakech. He met a famous Spanish writer, Juan Goytisolo, at his barbershop. Goytisolo fell in love with the group's music and took them to Spain to accompany his book presentations. Through Goytisolo, Kodssi met Spanish rock musician Miguel Rios, who became involved in the project.
Kodssi's time in Spain led to performances in Madrid, Barcelona, Salamanca, Valencia, etc. A fortuitous meeting with the folk group Al-Tall facilitated Mlouk el Hawa's entry into France, with a concert in Marseilles.
In 1986 Mlouk el Hawa was invited for the second time to Valencia's Troubadour Festival. The group recorded an album with Aktal: Chirk el andalus, as well as another of their own : Goman el frek. More tours followed throughout Spain and Morocco.
Kodssi met Hassan Hakmoun in 1987. Hakmoun is a famous Moroccan Gnawa musician, who has worked with Peter Gabriel and Don Cherry. Kodssi collaborated with Hassan Hakmoun and Don Cherry until Cherry's death in 1995.
In 1990 Kodssi joined Nass Marrakech and participated in the group's album, with contributions from Goytisolo. The following year, Nass Marrakech performed at Barcelona's Grec Festival and decided to make this city their permanent base. For the neat years, Kodssi worked with Nass Marrakesh, Ektal and Javier Mas.
Abdeljalil Kodssi recorded Tamiz with Javier Mas and Jordi Rallo in 2000. That same year, he met Cuban musician Omar Sosa at the WOMEX conference in Berlin.
The year 2001 saw the release of Nass Marrakesh's Bounderbala, featuring contributions from Omar Sosa and Jorge Pardo.
Kodssi's first solo album Mimoun, produced by Omar Sosa for Ventilador Music, was released in 2002. A new solo album titled Oulad Fulani Ganga came out in 2007.