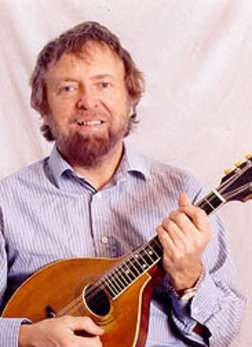 Mick Moloney, a native of County Limerick (Ireland) has been living in the United States since 1973. He holds a PhD in Folklore and Folklife from the University of Pennsylvania and currently teaches at New York University in the Irish Studies Program at Glucksman Ireland House.
Moloney has recorded and produced over fifty albums of traditional music and acted as advisor for scores of festivals and concerts all over the United States. Additionally, Moloney has hosted three nationally syndicated series on folk music for American Public Television; acted as a consultant and performer on the Irish Television special Bringing It All Back Home and was a participant, consultant and music arranger of the PBS documentary film, Out of Ireland.
In 1999 he was awarded the National Heritage Award from the National Endowment for the Arts and in 2002 authored Far From the Shamrock Shore: The Story of Irish American History Through Song.
His Compass Records release highlighting the songs of old New York, McNally's Row of Flats, won the best traditional music album of the year award from The Irish Echo in 2006 and in 2007 was featured on NPR's Fresh Air.
Discography
Mick Moloney with Eugene O'Donnell (Green Linnet, 1978)
Strings Attached (Green Linnet, 1980)
Uncommon Bonds (Green Linnet, 1984)
Green Fields of America: Live in Concert (Green Linnet, 1989)
Far from the Shamrock Shore (Shanachie, 2002)
McNally's Row of Flats (Compass, 2006)
The Green Fields of America (Compass, 2009)
An Irish Christmas (Irish Arts Center, 2011)
Since Maggie Dooley Learned the Hooley Hooley, with The Washington Square Harp and Shamrock Orchestra (2011)
The Ecstasy of St. Cecilia, with Liz Hanley (2013)
Divil of a Noise, with Donie Carroll (Ducksy Records, 2013)
web sites: http://www.mickmoloney.com