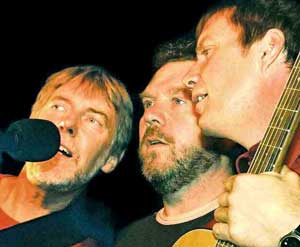 The McCalmans was a Scottish band formed in 1964 that performed for over forty years and all members of the group played instruments and sang.
Ian McCalman was a founder, along with Derek Moffat and Hamish Bayne. The Macs collected and performed traditional and contemporary material (mainly from Scotland) with unique harmony and idiosyncratic, off-the-cuff presentation. Their mission was to make a statement with their music, combined with their commitment to humor.
They recorded 26 albums, countless radio and TV series plus completed numerous world tours, headlining shows in London?s Albert Hall right down to the smallest of folk clubs.
Scots Abroad (Greentrax, 2006) contains almost all the songs from their concerts.
Discography:
All In One Mind (1968)
Singers Three (CBS, 1969)
Turn Again (CBS, 1970)
No Strings Attached (RCA, 1971)
An Audience With The McCalmans (RCA, 1973)
Smuggler (Xtra, 1975)
House Full (Xtra, 1976)
Side By Side By Side (Transatlantic Records, 1977)
Burn The Witch (Transatlantic Records, 1978)
The Best of (1979)
The Ettrick Shepherd (1980)
At Your Service (1980)
Bonnie Bands Again (1982)
Ancestral Manoeuvres (1984)
Scottish Songs (1986)
Peace and Plenty (Greentrax Records, 1986)
Listen To The Heat (Greentrax Records, 1988)
Flames on The Water (Greentrax Records, 1990)
Songs From Scotland (Greentrax Records, 1991)
Honest Poverty (Greentrax Records, 1993)
In Harmony (Greentrax Records, 1994)
Festival Lights (Greentrax Records, 1995)
High Ground (Greentrax Records, 1997)
Keepers (Greentrax Records, 1999)
Hard Night's Day (2000)
Where The Sky Meets The Sea (2002)
Tangled Web (2004)
Scots Abroad (2006)
Coming Home (2009)
The Greentrax Years (Greentrax Records, 2010)
Lost Tracks (2016)