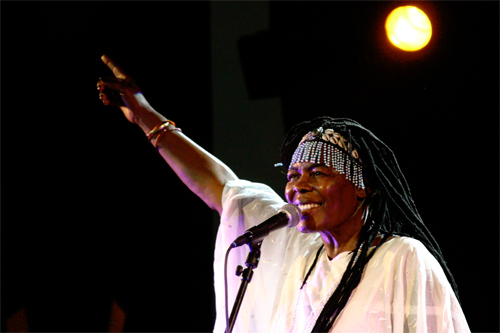 Stella Rambisai Chiweshe is one of the first African women to enter the male dominated world of the mbira.
Stella Chiweshe was born in Mujumi Village, Mhondoro in 1946. She started to sing when she was very young, herding cattle with her grandfather. She learned how to play the mbira in 1966 just as her deceased grandfather had prophesized. At the beginning, she performed in Zimbabwe as a ritual musician during funerals weddings and other ceremonies.
In 1974 she had a hit with single "Kassahwa," which reached gold status.
During the 1980s, Stella Chiweshe toured worldwide working as an actress and a solo dancer with the National Dance Company of Zimbabwe.
Stella Chiweshe is now married to a German citizen and spends most of her time in the central European nation. In Germany she teaches mbira and dance.
Discography:
Ambuya (Shanachie Records, 1987)
Ndizvozvo (Piranha Musik, 1988)
Chisi (1989)
Kumusha (1990)
Shungu (1994)
Healing Tree: Best of Stella Chiweshe (Shanachie, 1998)
Talking Mbira: Spirits of Liberation (Piranha Musik, 2002)
Double Check (Piranha Musik, 2006)
Ndondopetera (2007)
Chakandiwana, with Michele Longo (2014)