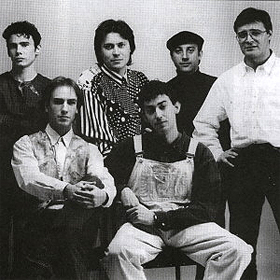 Matto Congrio was one of the most important modern Celtic bands in Galicia (Spain) in the early 1990s. Its only album Matto Congrio released in 1993 was an exciting combination of Galician Celtic music with Irish music, rock, salsa, samba and reggae. The album was recorded in Dublin and featured top Irish musicians as guests, including Paddy Moloney on the uilleann pipes.
The group's founders Carlos Núñez, Santiago Cribeiro and Anxo Lois Pinto were all graduates of the Obradoiro Escola de Gaitas e Zanfonas de Vigo (Vigo School of Bagpipes and Hurdy Gurdies) the most important school in the development of new Galician musicians. After Matto Congrio disbanded Carlos Núñez went on to become one of the most sought after pipers and flautists in international Celtic music. In addition to touring worldwide with The Chieftains he has recorded solo albums for major labels and is a frequent guest in many recordings.
Former Matto Congrio members Santiago Cribeiro, Anxo Lois Pinto and Isaac Palacin formed a new group called Berrogüetto which became one of the top contemporary Galician folk music bands.
Musicians:
Santiago Cribeiro – accordion, piano, keyboards
Anxo Lois Pinto – violin, bagpipe, soprano sax
Diego Bouzon – Spanish and electric guitars
Isaac Palacin – drums percussion
Carlos Núñez – flutes and bagpipes
Pancho Alvarez – bass mandolin guitar
Discography:
Matto Congrio (Lyricon, 1993)