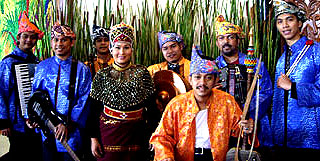 Asika is a group of contemporary traditional music, based in Kuala Lumpur, Malaysia. Asika includes eight talented individuals dedicated to promoting Malaysia's own brand of 'world music', in addition to contemporary pursuits.
"The musical elements that we produce based on Malay traditional music such as Zapin, Inang, Masri, Asli, Joget , Mak yong, Wayang Kulit and merge with modern composition for various musical expressions."
Asika had performed nationally and worldwide such as New York, Los Angeles (USA) , Kobe (Japan), Tenerife Island (Spain), Venice (Italy), Jakarta (Indonesia), Albert Hall Lin ondon and many more.
All of Asika members graduated from National Arts Academy in various musical faculty. "The unique things about Asika is all of us can play other musical performances such as Wayang Kulit (Shadow Puppet), Mak Yong (a classical Malaysian theatre), Cak Lempong and Gamelan."
Musicians:
Mohd Kamrulbahri Hussin – Group leader. Gendang, Rebana, Serunai, Conga, Djembe, Darbuka, Vocal, Rebab and more.
Ismail Ahmed – Group Manager. Nylon guitar, Electric bass, Darbuka, & Vocal
Shamsul Zin – Instruments – Drum, Rebana, jembe, Darbuka, Piano, Cak lempong and more.
Mohd Fuad Mohammad – Piano & Accordion
Muhammad Radzi Abdul Wahid – Violin, Accordion & Modern Piano
Syarizan Sahamat – Djembe, Rebana, Conga, vocal, tabla and more.
Isyam Swardy Daud – Electric guitar, Nylon guitar & Gendang
Amira Sariyati Mohd Hatta – vocals
Web sites
http://www.asikagroups.com
Credits