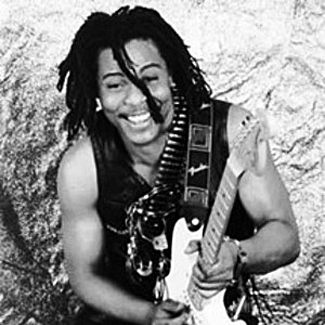 African reggae star Majek Fashek has been called a prophet and a poet, and is recognized as one of Nigeria's greatest singers and musicians. His powerful world beat sound incorporates his core influences (Bob Marley, Fela Anikulapo Kuti and Jimi Hendrix), seamlessly meshing roots, rock, reggae and Afrobeat into a unique signature sound called kpangolo. Majek describes it as "the sound of many cultures coming together."
Majek Fashek has always sung from the soul about the political and social struggles he has faced in his long and winding road from Nigeria to the U.S. He first attracted international attention in 1987 when his song, "Send Down The Rain" seemed to coax a rainstorm that ended one of the worst droughts in Nigeria' s history. Performing at an outdoor theater, he saw the thirsty crowd yearning for just a few drops of water. No one could imagine the possibility of a downpour, but as Majek sang the lyric "the sky looks misty and cloudy; it looks like the rain's gonna fall today," clouds gathered in the sky, thunder cracked and rain soaked the barren ground. Since that momentous occasion, Fashek has become one of Africa's most revered contemporary musical performers, rivaling Afro-reggae compatriots Alpha Blondy and Lucky Dube in recognition and popularity around the world.
While he developed an early interest in Jamaican riddims, Fashek was equally drawn to the music of Indian cinema. Learning to play guitar while in secondary school, Fashek joined a band called Jah Stix and, after graduating from the New Era College's Arts Program, he began playing in Lagos nightclubs, universities and even prisons. Fashek enjoyed a close relationship with the legendary late Nigerian musician and bandleader Fela Kuti, (he includes a Fela composition "Water No Get Enemy" on his new release Little Patience). "He's like my big brother," Majek has said and like Fela, he not only delivers hard-hitting rhythms, but also a forceful criticism of social and political issues.
Discography:
Prisoner Of Conscience (Tabansi/Mango, 1987)
I & I Experience ‎(CBS, 1989)
Spirit Of Love (Interscope Records, 1991)
So Long Too Long ‎(Sony Music, 1991)
Rainmaker ‎(Lightyear Entertainment, 1997)
Little Patience ‎(November Records/33rd Street, 2005)