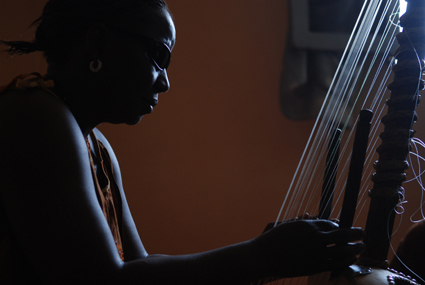 Led by her love for Manding tunes, Madina N'Diaye was the only Malian woman on stage accompanied by a kora, one of the most emblematic instruments in the Malian musical heritage.
Armed with her kora, her compositions and her commitments for women's causes, Madina opened the way to a new phenomenon in Mali: women who have access to musical instruments usually played by men or by the jeli (griot) caste.
Despite some traditionalists' wrath, she made herself known as a talented author, composer and performer. Trained by well known masters like Toumani Diabate and Djelimadi Cissoko, she carried on her initiation by herself.
In 2003, Madina lost her eyesight because of a serious infection. Despite her handicap, she did not stop the rehearsals and completed an album.
Discography:
Bimogow (Harmonia Mundi, 2011)
Midnight in Mali (Sterns Africa)