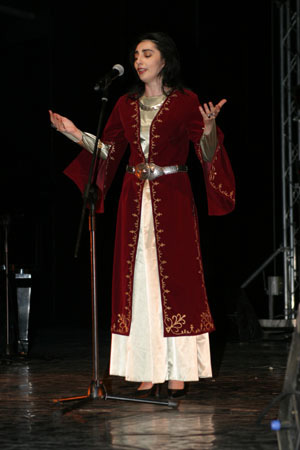 Lucineh Hovanissian was born in Yerevan (Armenia) in 1973. She has been performing on stage since the age of 9 as a soloist singer in Yerevan's municipal park children's band. Lucineh studied piano and composition at the conservatory and at the age of 11, she started performing as a pianist and composer.
In 1994 Lucineh graduated from Yerevan State medical university. She completed her musical studies in the vocal department of the jazz art college and the Yerevan state conservatory.
Lucineh won awards in 1987 and 1988 at the Aram Khatchaturian competitions among young composers of Armenia. In 2002 she became a UNESCO laureate in music (bursary aschberg). In 2004 she was awaredd the first place in the category 'solo canto' at the VII international festival musicworld in Fivizzano .
Lucineh was soloist in the Armenian national radio chamber choir as well as correspondent for Radio Free Europe / Radio Liberty, Armenian service.
She has performed throughout Europe and Canada.
Discography
* Vem, Sacred Songs from Armenia (Studio sm, 2005)
* After Noah, a world music story from Armenia (2004)
website: www.lucinehovanissian.am