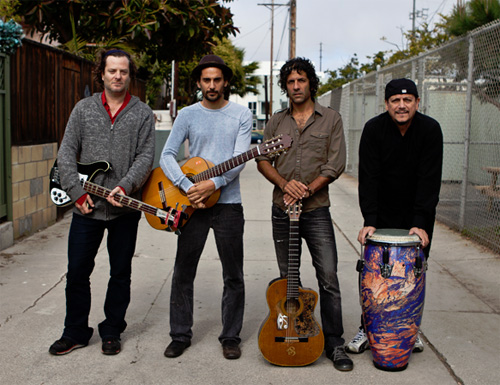 Founded in 1999 in Buenos Aires, Argentina, Los Pinguos (the Penguins, in Spanish) perform a spicy mixture of Latin rhythms utilizing Spanish guitars, Peruvian cajon (box-drum) and richly harmonized vocals. The group is led by led by guitarist and composer Adrian Buono.
After developing a strong following in the nightclubs of their native city, the band moved to Los Angeles in 2001 in search of international success. They soon began playing at local venues, private parties, film industry events and even on the streets. Their devoted work ethic, coupled with engaging live shows and endearing personalities, has made them one of the most popular Latin groups in Los Angeles today.
The lineup on Regardel includes Adrián Buono on guitar and vocals; José Agote on guitar; Santiago Fefe Lee on bass; Pablo Medina on Hammond organ, piano and vocals; Pablo Correa on drums; Mariano Dugatkin on bandoneon; Juan Manuel Leguizamón on percussion; and Mermans Mosengo on bass.
Discography
* Magia (Pinguos Music , 2001)
* Camino Bueno (Pinguos Music , 2003)
* Serenata (2004)
* Live in Los Angeles (Kufala Records, 2005)
* Peripecias (2006)
* California (2008)
* 1111 (2012)
* Los Pinguos Vivos, greatest hits
* Regardel
* Debajo Del Pelo (Pinguo Records, 2016)
web site http://www.lospinguos.com