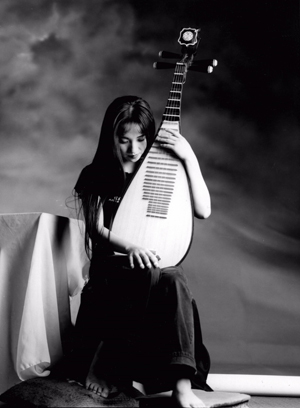 Lingling Yu was born in the south-western part of China, near Shanghai, beautiful city Hangzhou, starting point Silk Road. She took up music at age eight. Lingling studied violin, erhu and pipa performed concerts.
At the age of fourteen she devoted herself to the pipa and was awarded first prize in the entrance exam of the China Central Conservatory. A child prodigy, she was the subject of a documentary that was part of the "Small Music Genius" cycle, as well as various other TV and press reports. She then entered the China National Conservatory. At the age of twenty-two she obtained her bachelor's degree in literature. In 1988 she won the national competition of Chinese traditional music in Beijing. She was officially appointed professor at Qing Hua University, where she taught until 1997.
Together with her master Liu Dehai, a famous composer who performed compositions for pipa and orchestra under the direction of Herbert von Karajan, she traveled throughout China with her favorite instrument, teaching and giving public performances. Ms. Yu and Liu Dehai exerted a great influence on the evolution of music for pipa. She stayed in the Philippines where she taught and played concerts in various cities.
She studied with other famous pipa musicians such as Luo Jieli, Wang Fandi and Sun Weixi who gave Lingling Yu the opportunity to broaden her knowledge, enrich repertoire a great variety of styles, allowed find own way, giving free range personality. performing style is clear, bright, warm creative, characterized by subtle balance brightness delicacy, emotion serenity, blending two principles Chinese philosophy: yin yang. Lingling Yu and her master are linking points between western eastern music.
She settled in Switzerland 1998 to carry on with this research. has been studying composition Jean Balissat at the Lausanne Conservatory. regularly gives concerts of Chinese classical music all regions other European countries. Also gave radio concerts (Swiss-German radio, Swiss-French, France) TV.
In 1999 she released her first CD of solo music for pipa, "The Swan" in Switzerland. Since October 2000 she studies composition at the conservatory of Geneva and she also plays Chinese-Western contemporary music. Ms. Yu also practices the traditional martial arts Tai Ji Quan and Mei Hua Zhuang, based on the Taoist Yin Yang theory.
Discography
Tian E (Amori, 1999)
Xu Lai (Felmay, 2009)
Yue Luo (Felmay, 2011)
The Musical Voyages of Marco Polo (World Village, 2013)
Meng Yuan (2017)