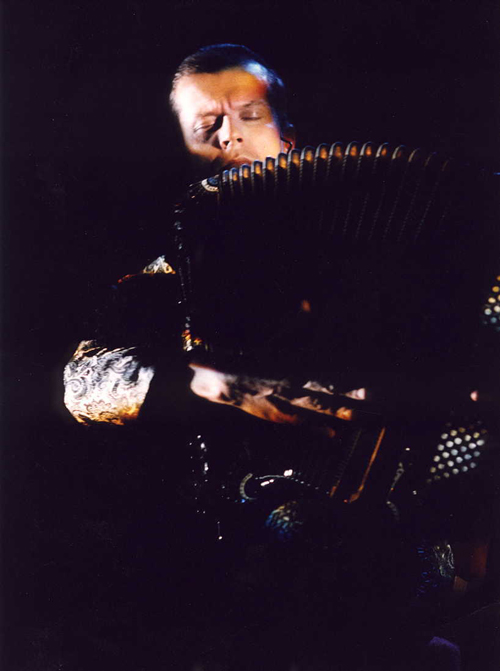 Kimmo Pohjonen is one of the most respected and in-demand musicians and performers in Finland. An accordionist of exceptional ability and imagination, Kimmo's musical history goes back more than twenty years in rock, folk, avant-garde, improvisation, classical, dance and theater music projects.
He was born in 1964 and began playing accordion at age 8, playing dance music, folk music, later classical and rock music. He studied Classical Music at Helsinki Conservatory 1980-1985. He later studied at the Sibelius Academy Folk & Classical Music Departments in 1985-96. In addition, he studied at Bagamoyo College of Arts, Tanzania, off and on, 1985-92; and in Buenos Aires, Argentina, 1994. He has worked as teacher of accordion at Sibelius Academy and in the USA, Sweden, Denmark, and Holland.
Pohjonen was named "Folk Musician of the Year" in Finland in 1996, 1997, and 1998. He has played in over 75 different albums in the past years, including Finnish folk music group Ottopasuuna, duo Pinnin Pojat with JPP's Arto Jarvela, and rock band Ismo Alanko
Säätiö. Pohjonen has also performed music for theater, ballet and modern dance.
In 1996 he embarked on a solo career with his solo 5-row accordion project, featuring extreme and original compositions, live loops and effects, a dynamic and animated stage performance, orchestrated lights and surround sound. This show received instant massive worldwide critical acclaim at WOMEX Berlin in 1999 and led to continuous work with his many projects all over Europe, North and South America, Israel, Russia and Japan to rave response.
In 2000, Kimmo received a five year composer/artist grant from the Finnish state and he was named "Accordionist of the Year" for 2000 and 2001 in Finnish Jazz magazine Jazz Rytmit.
In 2000 he presented "KalmukkiSinfonia" project in Helsinki featuring the 15-piece Tapiola Sinfonietta orchestra, two percussionists, light show and surround sound.
In 2001 Pohjonen formed duo Kimmo Pohjonen Kluster with sampling whiz Samuli Kosminen. Kluster toured Europe throughout 2001-2004.
He teamed up with French percussionist Eric Echampard for a first concert in Tallin. Finnish choreographer Jorma Uotinen directed Finnish National Opera Ballet performing Kimmo's Kielo music at Helsinki's National Opera House.
Pohjonen worked on the Kalmuk project with Tapiola Sifonietta toured England in 2002 with the simultaneous release of Kalmuk DVD Symphony. The Kalmuk DVD Symphony won the Teosto Prize (Finland) in 2003.
The Manipulator project was created in 2002, with multimedia artist Marita Liulia. It was performed in Helsinki, Sweden, and Belgium. In Helsinki it was 6 hours of improvised performance on each of three days, with a total 18 hours.
Pohjonen composed and performed, with Kluster, music for the UK short film "Flickerman and the Ivory Skinned Woman".
In 2004, Kluster collaborated with Pat Mastelotto and Trey Gunn of King Crimson, and with Kronos Quartet.
Pohjonen's recent adventures include Animator, featuring live computer graphics by Marita Liulia and live video mix by Antti Kuivalainen. Pohjonen also performs entirely improvised music with French percussionist Eric Echampard.
Out of the collaboration with Pat Mastelotto and Trey Gunn came KTU, a live band featuring Trey Gunn on Warr guitar, Samuli Kosminen on vocals and accordion samples, Pat Mastelotto on drums, Kimmo Pohjonen on accordion and vocals, and Heikki Iso-Ahola as sound designer.
Discography:
Kielo (Rockadillo, 1999)
Kluster (Rockadillo, 2002)
Kalmuk (Westpark, 2002)
Uumen (Rockadillo, 2005)
8 Armed Monkey (Rockadillo, )
Quiver (Rockadillo, 2009 )
Uniko (Ondine Records, 2011)
Murhaballadeja / Murder Ballads CD (SiBa, 2012)
Sensitive Skin (Octopus / Ondine, 2015)
DVDs
Kalmuk DVD Symphony, with the Tapiola Symphony (Lilith, 2002)
Uniko, with Samuli Kosminen and Kronos Quartet (CMajor, 2011)