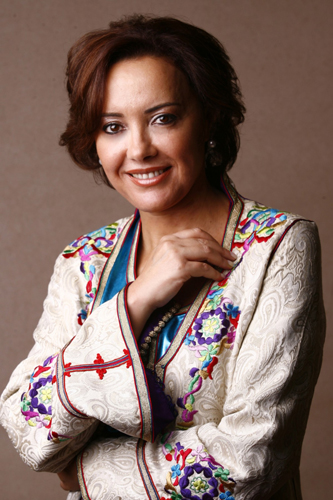 Moroccan artist Karima Skalli is one of the leading classical Arabic music vocalists, inspired by the great voices of classical Egyptian music. At the age of 9 she sang one of Umm Khaltum's songs in its entirety for her family. Her influences include Umm Khaltum, Suad Mohammed, Leila Morad, Mohamed Abdelwahab, and especially Asmahane.
She has collaborated with top composers and poets, specifically the great Moroccan ud player and composer, Saïd Chraïbi, who discovered her, and the eminent poet Abderrafie Jwahri. Both masters have composed elegant songs for her.
When she was invited to the Festival de la Goulette in Tunis, Karima skalli sang compositions by Nasser Shemma, the Iraqi ud master.
In November 1999, Karima was invited to perform at the Cairo Opera accompanied by the Egyptian Philharmonic Orchestra, a high point of her career. There, she dedicated the evening's performance to the Egyptian diva Asmahane, who remains Karima's model and inspiration.
Karima released one album, Wasla, for French label Institut du Monde Arabe.