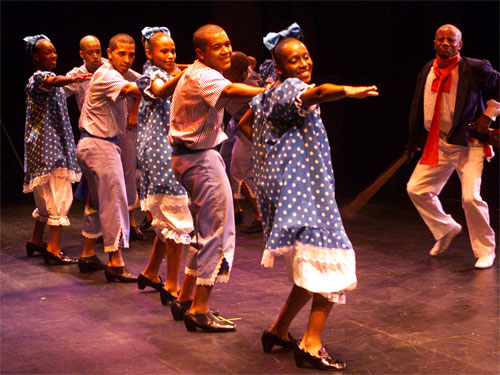 New York (New York), USA – The JPMorgan Chase Latino Cultural Festival is one of the most diverse Latino arts events in America. Now in its ninth year, the Festival—presented by Queens Theatre in the Park—continues its tradition of presenting music, dance, fine arts, spoken word, comedy, theater, film, and family programming all in a twelve-day span, July 27 – August 7, 2005.
All performances take place in the Theatre in Flushing Meadows Corona Park—the second-largest park in New York City and the site of the 1964 World's Fair."We always seek to represent the variety of Latino and Latin American arts," explains festival director Claudia Norman. "This year's schedule includes the contemporary voices, the traditional aspects, the legends, and the African influences of the Americas." The surrounding Latino residents, who have been migrating to the area in large numbers in the past two decades, have adopted Flushing Meadows Corona Park. The Festival also attracts New Yorkers regardless of cultural heritage and draws Latinos from throughout the Northeast. "This is the rare opportunity to see Latino arts presented in a serious way, in a formal theater setting, rather than a club or church," Norman says.
Ten of the fifteen presentations this year are musical. The performances kick off with Perú Negro, a 20 plus member music and dance troupe. "When people think of Peru, they often think of ponchos and panpipes," says Norman. "The world is starting to recognize the African influences in Peru and other parts of Latin America." Perú Negro displays distinctive instruments that emerged when African drums were banned, such as the cajón (wooden box), quijada de burro (donkey jaw bone rattle), and cajita (small wooden box once used for church collections). The elaborately costumed dance style jumps from mockery of colonial European dances to seductive courting traditions; from cross-generational humor to showing traditional life in Black Peru's past.
There are several musical legends on the festival schedule this year. Illapu are Chilean superstars known for their visibility during the 1970s' human rights struggle. Expect to see teenagers and parents alike singing along with these icons of freedom. "We see this a lot with Festival performers," Norman says. "New generations and new audiences for legendary performers. And the artists love it. People go wild; they have their flags and they sing along. That's a trademark of the Festival: bringing that emotion into the Theatre."
The Latin Legends make a rare appearance in Queens. Band anchor Larry Harlow—known as "El Judío Maravilloso"—developed the explosive, trumpet/trombone sound of contemporary salsa bands in the early '70's and was the first to introduce the sacred batá drums into secular dance music. Harlow is joined by Yomo Toro, the "Jimi Hendrix of the cuatro" (a guitar from Puerto Rico). Toro was part of a scene that brought simple music of the country troubadours to New York's barrios, taking the music of their grandmothers into the wild urban salsa that was developing at the time.
The Senate and Congress of the Dominican Republic unanimously voted to name Joseito Mateo "the king of Merengue." He was the first Dominican to perform at Madison Square Garden, Carnegie Hall, and Radio City. Mateo is just as well-loved in New York, where Mayor Bloomberg declared February 27 Joseito Mateo Day for being a great ambassador of the Dominican Republic to the world.
Afro-Cuban jazz percussionist Cándido is the focus of filmmaker Ivan Acosta's documentary Hands of Fire/Manos de Fuego to be presented at the Festival. Now, 84, Cándido is a musical giant hailed as one of the greatest Cuban percussionists to arrive to the USA, and is known for his work as Dizzy Gillespie's drummer, as well as for performing with such legends as Frank Sinatra, Tony Bennett, Charlie Parker, and Duke Ellington. In the Festival's spirit of bridging performers and audiences, Candido plans to be on hand for the free screening.
In an annual festival tradition, a night of Rock en Español stirs things up. This year's concert features Queens-based Karimbo, who call their style "Funky Rumba" and who sing proudly about their Latino heritage. Karimbo is joined on stage by Contramano, a trio whose name translates as "against the flow." This somewhat avant-garde, NYC-based group made up of two Argentine ex-pats and a Spaniard features a cello and lyrics that jab at government corruption and class imbalance.
The musical roster is rounded out with a variety of musical traditions. The Mariachi Academy of New York is the first East Coast school dedicated to educating children in this cherished musical tradition of Mexico. In a free concert, the students—who learn music as well as cultural pride in a bilingual setting—will perform classic rancheras.
Based on Arsenio Rodriguez' Conjunto style (with trumpets, tres, piano, and rhythm section), Conjunto Clásico maintains the traditions of its Puerto Rican and Afro Cuban roots. Under the direction of Ramón Castro, the group expands on that sound with aggressive New York style harmony vocals led by Tito Nieves and tailor-made compositions written by Ramón Rodríguez. Meanwhile, bilingual rock band Los 40's is led by Queens Theatre house manager Willy Mosquera who was named by the Daily News as New York's Nicest Guy. The band comes from the tradition of garage rock bands in Latino communities. There is a free children's performance titled ¡Sofrito! Dynamic poet and public radio commentator David Gonzalez joins special musical guests to present this musical story-telling journey about life in the Caribbean.
Queens Theatre continues its commitment to commissioning contemporary dance this year with Tiempo by the New York-based Dario Vaccaro Dance Project. Argentina-born Vaccaro uses seven dancers to explore the human perception of time. "I saw him in a duo with another dancer who cannot walk," Norman explains. "The sensibility and intelligence of this young person to use the rest of the body to express the same power was really important. He is carrying her, but you do not see the effort. He has the sensibility of using the body in a different way."
Performance artist Eva Gasteazoro offers Endemoniadamente Bella, translated from Jeannie Hutchins' Gorgeous as All Hell. Living in NYC since 1983, Eva was seminal in starting Nicaragua's contemporary dance movement during the 1979 revolution. While she had been very active in theater in the '80s, a recent performance of this piece in Nicaragua marked her return to the stage. This solo piece is about the pull toward darkness and our fearful fascination with that darkness.
The Festival presents two comedy troops. Grupo Frivolidad's Siameses Show with Tola and Maruja was written specifically for a Spanish speaking audience and premiered at the 2001 Latino Cultural Festival and continued with an additional 25 season presentations at the renowned Repertorio Español in Manhattan. This year they present La Comedia Divina, which tells the story of where Jesus
was from age 12 to 30, and offers that "In the end, nothing is more human than an unfinished carpenter's job… maybe too human." Ecuadorian comedy group Vivos will perform some of its most popular pieces. In one skit, El Cholito Monstruo, an upper-class wannabe unsuccessfully attempts to cross the border into the United States. In another, La Pareja Féliz (The Happy Couple) shows what happens to a loving partnership after five years of marriage. And another centers on a case taken out of the FBI files.
Alba Sánchez will be MC at this year's annual, free Open Mic Night. Poets can sign up to join Sanchez on stage. Sanchez, whose past works include Latinas Don't PMS, The Tall Blonde Woman in the Short Puerto Rican Body, and Chicholicious!, was voted monologist of the year by El Diario.
As with every year, the Festival will be enveloped by an art exhibition. Mexico Hurray!, curated by Mónica Ramírez-Montagut, presents three artists born in México that deal with identity issues through the reconsideration of their immediate surroundings. Felipe Galindo presents the animation The Manhatitlán Chronicles where Mexican and American culture are transposed in humorous ways. Natalia Porter's colorful textile sculpture inverts the use of hair rubber bands that have been woven together with human hair. Remy Amézcua presents a series of photographs of two Mexican towns called Pahuatlan and San Pablito, both in Puebla, which may very well be representatives of a large number of small towns in Latin America, documenting universal images that any Latino can identify with.
The JPMorgan Chase Latino Cultural Festival and Series are among many initiatives undertaken by the Theatre to better serve a diverse constituency of patrons. The Latino Festival was the Theatre's first endeavor to break down barriers and give ownership of its mainstream facility to different ethnic communities in the Borough and greater metro area. In addition, the Theatre presents a Black Cultural Arts Series, an Immigrant Voices Project featuring new plays by playwrights of different ethnic backgrounds, and has just launched an Asian Cultural Initiative.
For tickets and further information visit Queens Theatre's bi-lingual festival website at: www.latinofestival.org or call the Box Office from noon to 6 pm, Tuesday through Saturday at 718.760.0064. Mariachi Academy, Candido: Hands of Fire (film), Open Mic Night, and Sofrito are free events; reservations are required. Reduced Advance Prices for all other events range from $10 – $30 depending on the event.
The JPMorgan Chase Latino Cultural Festival 2005 is sponsored by JPMorgan Chase, Delta Air Lines (the official airline of Queens Theatre in the Park) and Con Edison. The Media Sponsors of the Festival are Time Warner Cable of New York City and New Jersey, NY 1 Noticias, and el diario/La Prensa. Additional funding for the JPMorgan Chase Latino Cultural Festival 2005 has been provided by the National Endowment for the Arts, New York State Council on the Arts, and New York City Department of Cultural Affairs. The Latino Cultural Festival was founded in 1997 by The Latin American Cultural Center of Queens and Queens Theatre in the Park.