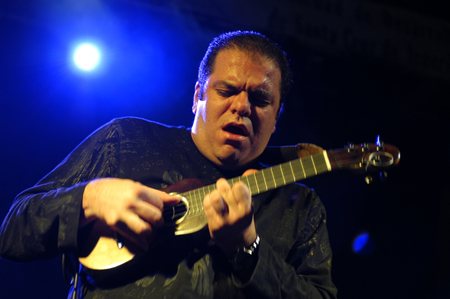 The Spanish folk and world music community was in shock this morning when the Spanish press announced the death of timple virtuoso José Antonio Ramos. He was 38 years old and was found dead today (June 4) in the recording studio where he was finalizing his fifth album titled Very Jar. Ramos had been working out on a stationary bicycle and was found dead, apparently of a heart stroke.
The Canary Islander was one of the leading timple players in Spain. The extremely talented Ramos ventured into jazz, flamenco, Celtic music, and classical music, taking his small guitar to uncharted territories as a solo instrument.
José Antonio Ramos was born in Las Palmas de Gran Canaria (Canary Islands) in November 10th, 1969. At the age of nine he started his timple studies with Totoyo Millares. Later, he continued his education at the Conservatorio Superior de Música de Las Palmas (Gran Canaria), studying classic guitar, but also interested in jazz and improvisation.
He won the Premio Nacional de Música Folk para Jóvenes Intérpretes (National Folk Music Award for young Performers) in 1998 in Santiago de Compostela. This prize triggered the development of his career, which started with the creation of a group called Trio Simple. He recorded two albums as leader of this group (Más que un sueño and Tanekra….) and travelled throughout every lost corner in the Canary Islands. During this stage of his work it is worth noticing the performance he gave in the Canary Islands Day (1996) called "Timple. El sonido de Canarias," in which some of the most notable instrumentalists and singers of Spain were invited.
After Trio Timple, he started his career as a soloist with an intense activity, giving concerts, seminars, conferences…in places in and out the Canary Isles. In this new period, and for the first time in history of music, he made a name for an electro acoustic timple. It was a new project designed by himself and built up by luthiers Jesús Machín and Juan Molina.
As a soloist, Ramos recorded four albums. He also worked with many different artists, participating in over 30 albums and numerous live performances. Some of the musicians he worked with include leading Spanish, Irish, American and Cuban musicians such as Carlos Núñez, Kepa Junkera, Pedro Guerra, Rosana, Orquesta Filarmónica de Gran Canaria, Mestisay, los Sabadeños, The Chieftains, Bela Fleck & the Flecktones, Jorge Pardo, Juan Manuel Cañizares, Javier Krahe, Bau, Mari Carmen Mulet, Taburiente, Javier Ruibal, Pancho Amat, Polo Ortí, Jose Manuel Ramos, Camarón de Pitita, Andreas Prittwitz, and René Gonzalez.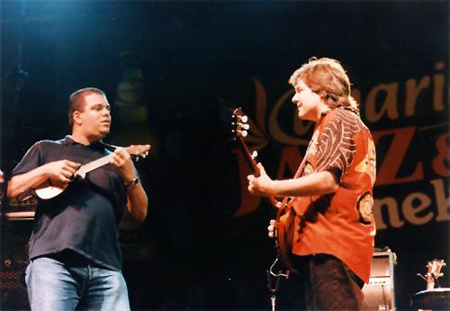 Teaching career
During all his years as professional musician, José Antonio Ramos has combined his job as a performing and recording artist with his teaching career. Apart from the private classes in his own school of timple, he has also given several courses, conferences and seminars throughout many places of the Canary Isles (Las Palmas de GC, Mogán, San Nicolás de Toletino, Artenara, Telde, Guía, Las Breñas, Santa Cruz de la Palma, Puerto de la Cruz, Los Llanos de Aridane, Santa Brígida, Valsequillo, Arrecife…), also through several institutions such as the conservatorio superior de música de las Palmas, la Universidad de Las Palmas de GC.
One of his most celebrated works is the "Timple Imaginario", a compilation book of specific scores for timple, written both in solfege and ciphered. In this book, José Antonio Ramos gathered the works he recorded throughout his long career.
About the timple
The timple is a small guitar with 5 nylon strings, which comes from the Canary Islands (Spain). Some timples in the northern part of the island of Tenerife only had four strings. Similar instruments are found in other parts of Spain and Spanish-speaking America under different names: tiple, guitarrillo, guitarrico. It is related to the Portuguese cavaquinho, which is the ancestor of the Hawaiian ukulele.
Web sites:
www.joseantonioramos.com
www.myspace.com/joseantonioramos
www.escueladetimple.com