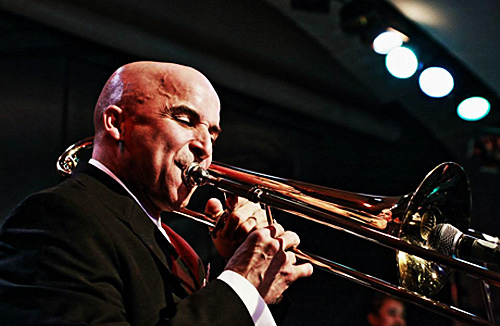 Jimmy Bosch is one of New York's most reputable trombonists. He plays a music style that he calls Salsa Dura (Hard Salsa) a fiery and innovative style that goes beyond traditional salsa.
Jimmy Bosch was born in Jersey City and grew up in Hoboken, New Jersey. He is the son of a Puerto Rican family with deep musical roots. His father was a notorious dancer his mother used to sing at parties back in Puerto Rico and his uncle Israel was really into flamenco cante (singing).
Bosch's Salsa Dura is both a testament to and an evolution of Puerto Rican musical traditions. Bosch continuously re-invents the music of a culture with roots in Africa and Spain by drawing upon an eclectic repertoire: the plenas of an agrarian Puerto Rico; Cuban styles such as mambo, son, yambú, guaguanco, guajira and Mozambique; music by the Beatles, American folk tunes, and the New York Salsa of the 1970s informed by straight-ahead jazz and contemporary rock.
Bosch began playing trombone in 1970 at the age of 8 and at age 13 this prodigious talent taught him-self to play "monas" (musical riffs). Bosch frequented clubs in New York City with his trombone at hand confident that he would one day land a gig with a major New York salsa band. In 1978 while a student at Rutgers University his moment came to a realization when he was hired by Andy González to work with Conjunto Libre heralding the birth of a prolific career and extensive
Discography:
Soneando Trombón (Ryko Latino, 1998)
Salsa Dura (RykoLatino, 1999)
El Avión de la Salsa (JRGR Records, 2004)
¡A Millon! (JRGR Records, 2009)
DVDs:
Jimmy Bosch y su Masacote Jam
Jimmy Bosch: Allstar Band Live in Puerto Rico