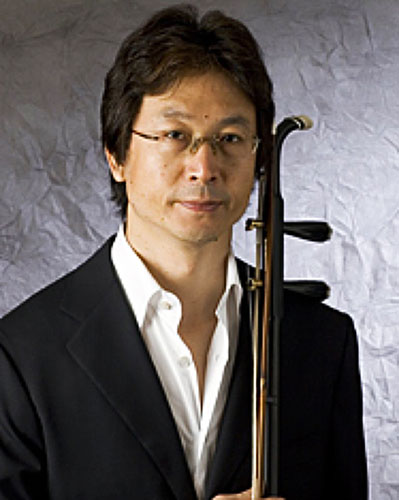 Jia Peng Fang was born April 1958 in Jiamusi, China. He is a virtuoso of the erhu (Chinese fiddle), and has played in hundreds of live concerts throughout China and Japan, as well as recording for movies, television and radio. He has also performed in the United Nations General Assembly Hall in New York, and in Carnegie Hall, playing with the Tokyo Pops Orchestra and New York Pops Orchestra.
In 1988, Jia moved to Japan and enrolled in the Master of Arts Degree Program in Music at the Tokyo University of Arts.
Jia Peng Fang teaches erhu, composes soundtracks and continues to perform.
Discography:
River (Pacific Moon, 1998)
Rainbow (Pacific Moon, 1999)
Faraway (Pacific Moon, 2001)
Sho (Pacific Moon, 2006)
Moonlight (Pacific Moon, 2006)
Nocturne (2007)
Jia Peng Fang: Best (Pacific Moon, 2007)
Tomorrow (Pacific Moon, 2010)
Seasons: Jia Peng Fang Plays Haruki Mino (Pacific Moon, 2011)