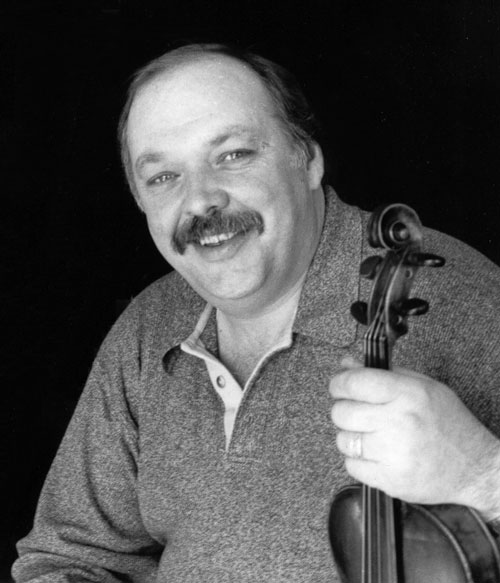 Jerry Holland was a giant among fiddlers, one of the best North America has ever produced. He was one of the best-known Cape Breton musicians of his generation, and many of his own tunes have entered the traditional repertoire.
Jerry Holland was born February 23, 1955 in Brockton, Massachusetts. Starting the fiddle around the age of five, Jerry was performing publicly by age six. At ten, he was playing for Bill Lamey's dances in Brookline, Massachusetts. It was during this time that Jerry began his association with fine piano accompanists such as Doug MacPhee, Eddie Irwin and Mary Jessie Mac Donald, and by the age of twelve, he was playing guitar for Angus Chisholm and Bert Foley on a regular basis.
Jerry's family made annual summer visits to Cape Breton when he was a boy, and his musician father exposed him to some of the last generation's greatest Cape Breton fiddlers. A Cape Breton resident since 1975, for four years, Jerry was a regular on The John Allan Cameron Show, a television program originating from Montreal where Jerry shared the stage with his hero, Winston Fitzgerald, and fiddlers Angus Chisholm, Joe Cormier, Wilfred Gillis and John Donald Cameron. During the years that the show ran, Jerry had to learn more than a thousand tunes, and acquired a vast repertoire of traditional Cape Breton fiddle music.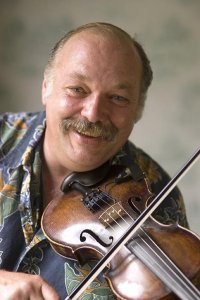 Because Cape Breton is remote, its fiddle music and dancing retains the old Scottish style, a tradition that Jerry devoted his energies to preserving and promoting through his books, recordings, and memorable concert tours throughout Canada, the US, Denmark, Sweden, Norway, Ireland, Scotland, Finland, Germany, Mexico, England and France.
Jerry Holland died July 16, 2009 in North Sydney, Nova Scotia.
Discography:
Jerry Holland (Rounder Records, 1976)
Master Cape Breton Fiddler (1982)
Lively Steps (1987)
Jerry Holland Solo (1988)
The New Fiddle (1990)
A Session With Jerry Holland (1990)
Fathers and Sons (1992)
The Fiddlesticks Collection (Green Linnet, 1995)
Fiddler's Choice (1998)
Crystal Clear (2000)
Parlor Music (Rounder, 2005)
Helping Hands (2009)
Jerry Holland and Friends (Fiddlesticks Music , 2010)