The Havana World Music Festival (HWM) will take place on March 19, 20 and 21, 2020, under the artistic direction of performer and composer Eme Alfonso.

"I am super happy to make another edition of Havana World Music and to bring new artists," said Eme Alfonso. "Once again the music of the world will be celebrated, taking the capital of Cuba as a center of cultural exchange. We are preparing many surprises for Havana World Music 2020. The idea is to continue surprising the public with different styles, languages, cultures and expressions. We believe it is our hallmark and we will continue working on that line."

True to the values ​​of diversity and creativity that distinguish the event, the organizing committee of HWM will again present in Cuba a particular mix of world music. The festival revealed some of the artists scheduled to perform.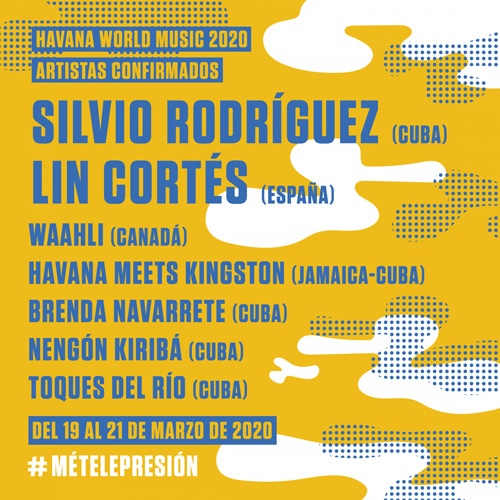 Silvio Rodríguez, founder of the Nueva Trova Movement in Cuba, and one of its greatest exponents, will top the list of Cuban artists. Silvio Rodríguez's career spans over four decades and about twenty albums. He is considered one of the greatest Spanish-language singer-songwriters. His songs have become classics of Latin American music.

"It is a dream for us to be able to receive his music, which I personally admire, "said Eme. "I think it is a privilege and honor. The rest of the artists we have confirmed are known within world music, love Cuba and are eager to come and play for the Cuban public. "
Lin Cortés, from Spain, will make his debut in Cuba. Known as the prince of the latest flamenco, he mixes Andalusian poetry, rock, jazz, symphonic elements , funk and soul. Cortés has been helped by some of the most prominent musicians of the genre in Spain, including Antonio Carmona, Rosario Flores, El Pele, Nita (singer of the Fuel Fandango duo), who endorse him as a unique artist. ""Indomable", his second album mixes his gypsy style with avant-garde sonorities.

The MC and urban music producer Waahli, who accompanied the Nomadic Massive group during their previous presentations at HWM, will return to the Festival. On this occasion, he will come back from Canada with his solo project to launch Black Soap, his latest recording.

The live sound clash between Cuban and Jamaican musicians that is Havana Meets Kingston will also be present in this new edition of the Festival. The project brings together an important cast of world-class performers, who combine the musical traditions of two Caribbean islands, something rarely seen on the same stage.

Percussionist and singer Brenda Navarrete is part of the HWM 2020 lineup. Performing on batá and tumbadora, she stands out in the Cuban music scene, with strong influences from jazz and Afro-Cuban rhythms. She will present her first album: "Mi mundo", a mix of rumba, Latin jazz, timba, son, Indian music, guaguancó and folklore.

As part of the To Mestizar project, the Festival will present Nengón Kiribá, which from a small town in Baracoa, preserving the musical legacy of eastern Cuba.

Another Cuban band will present its fusion of conga, reggae, danzón, funk and other sounds.
More at Havana World Music