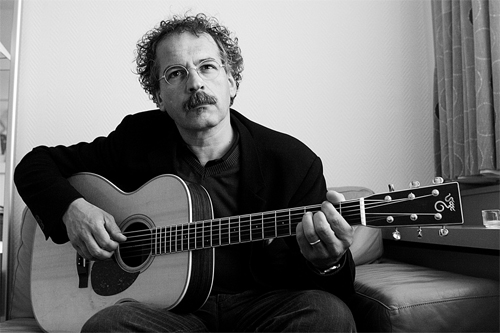 Italian singer-songwriter and guitarist Gianmaria Testa was born near Cuneo (in Italy's Piedmont region) on October 17, 1958. He grew up in a family of farmers/ Gianmaria Testa taught himself to play guitar and wrote his first songs as soon as he learned his first chords. Following winning the first prize at the Recanati Festival for emerging singer-songwriters, he released his first album, Montgolfieres.
In February 1997, five months after the release of his second album, Extra-Muros, Gianmaria performed at the legendary Olympia in Paris. The engagement marked a key moment in his young career, which, in the space of two years, saw him go from being a completely unknown Italian singer-songwriter, to making a chance debut in France, to becoming a runaway success. Still, those familiar with his albums and live appearances couldn't help but note the composure, confidence, sincerity and utter lack of self-importance with which he made these enormous strides. His voice seemed to have gained new richness and depth, and there was a new freedom to the instrumental playing. The driving rhythms of jazz, lively fanfares, piano solos, and sudden silences all served to emphasize Gianmaria's sincerity and his subtle, elegant way of telling tales of melancholy and quiet joy.
In February 1999 Gianmaria released his third album, Lampo, recorded in Italy and France. The title alludes to both lightening and the flash of a camera, representing a luminous instant that leaves an indelible trace in one's memory. Lampo is a disc of micro-stories, of everyday people and things that take on surprising dimensions: lovers in Rome, the moon, chestnut trees, chalk dust left on doorsteps to mark the steps of visitors.
In October 2000, he made a new album of songs and poems, Il valzer di un giorno (La Valse d'un Jour) . The album represented a real gamble: solo voice backed up with acoustic guitar, relying solely on the quality of the material. Following the release of this album, Gianmaria played Italy's most prestigious theaters as well as other European cities.
Gianmaria's Altre Latitudini was released in October 2003 in Europe and Canada. The latitudes of the title are those of the heart, explored in fourteen songs of love lost and found.
Gianmaria Testa died on March 30, 2016.
Discography:
Montgolfières (Label Bleu, 1995)
Extra-Muros (Tôt Ou Tard, 1996)
Lampo (Tôt Ou Tard, Warner Music France, 1999)
Il Valzer Di Un Giorno – La Valse D'Un Jour (Le Chant Du Monde, 2001
Altre Latitudini (Le Chant Du Monde, 2003)
Extra-Muros ‎(Le Chant Du Monde, 2005)
Da Questa Parte Del Mare (Le Chant Du Monde, 2006)
F. à Léo (Radio Fandango, 2007)
Solo Dal Vivo (Le Chant Du Monde, 2009)
Vitamia (Egea Music, 2011)
Men at Work – Live (Le Chant Du Monde, 2013)