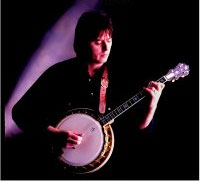 Gerry O'Connor – described by many as the best four-string banjoist in the history of Irish music, lets creativity take him where it wants to. He's been doing this for some time now, and in the process has collected a great army of admirers not only in Ireland but also around the world.
O'Connor has developed a phenomenal technique on the tenor banjo, which sometimes gives the impression that there are perhaps three or four clones of the man all playing at the same time, as is apparent on "Cam a Lochaigh" (Cam-a-luck-ig) on his CD Myriad.
In the tradition of the O'Connor family, Gerry was presented with a fiddle even before he was old enough to hold it properly. His father and uncles were all fiddle players. "The fiddle I got was to big for me and I couldn't manage it at all," he says, "But there was more to it than that. I wanted to be a bit different, sure I loved the music but I wanted to make a sound that was different from the fiddle." It was this desire that lead him to the banjo after hearing a player from Limerick play at the Barge Inn in Garry Kennedy. O'Connor instantly fell in love with the bright, rippling sound and had at last discovered the vehicle that would allow him to make an enormous contribution to the development of Irish music.
Gerry "banjo" O'Connor played banjo and fiddle with the band Four Men and a Dog during the 1990s.
O'Connor's music has been featured on the BBC Series Tacsi and he has appeared as a guest on over 12 albums by such artists as Gordon Duncan and Niamh Parsons. Is he satisfied' "Well, I suppose it is the curse and the joy of the musician and the artist in general. You're never quite satisfied. I suppose the day I'm satisfied is the day I'll lay down the banjo for good."
Gerry "banjo" O'Connor has made several tuition videos and books for musicians who are learning how to play the banjo:
Absolute Beginners Irish Tenor Banjo (Video)
Complete Guide to Learning the Irish Tenor Banjo (Book)
Irish Tenor Banjo Complete Techniques (Video)
Discography:
Time To Time (1991)
Myriad (1998)
No Place Like Home (2004)
High Up – Low Down (2009)