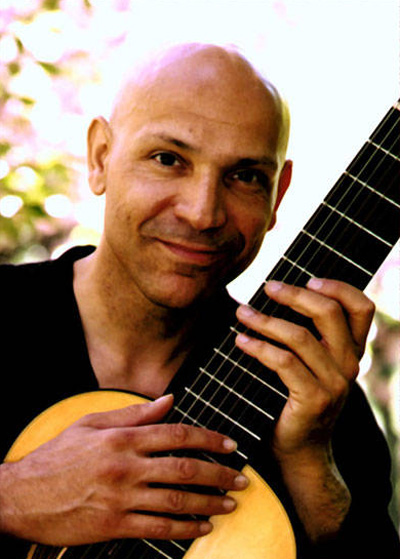 Gerard Edery was born in Casablanca and raised in Paris and New York City, speaking several languages throughout his childhood as he absorbed a variety of musical traditions spanning three continents.
Trained as a classical baritone while earning his Masters Degree at the Manhattan School of Music, he has since sung more than thirty roles with opera companies around the United States.
Gerard is also a virtuoso guitarist: melding classical, flamenco, jazz and folk techniques, he brings an intricate, sophisticated personal style both to original compositions and to his elaborate, expressive arrangements of traditional songs – a world-girdling repertoire encompassing some dozen different languages.
His special passion is the rich heritage of French, Spanish and Judeo-Spanish melody. Considered one of the leading interpreters of Sephardic Song, he was honored with the 1997 Sephardic Musical Heritage Award. In 2, he was also awarded a Meet the Composer! grant to write original songs.
Gerard has performed in major concert halls and festivals throughout the world. Gerard offers many inspiring programs in collaboration with many artists, including ud virtuoso George Mgrdichian, storyteller Peninnah Schram, cantors Alberto Mizrahi and Aaron Bensoussan, soprano Nell Snaidas, percussionist Rex Benincasa, playwright/lyricist Adina Ruskin and composer Noa Ain.
Edery is a prolific recording artist and has released over ten CDs on the Sefarad Records label.

Discography:
Chansons d'Amour (Sefarad Records, 1998)
Linda Amiga (Sefarad Records, 1999)
Morena (Sefarad Records, 1999)
The Minstrel and the Storyteller (1999)
Oigo (Sefarad Records, 2000)
Sing to the Eternal (2002)
Romanzas Sefarditas (2002)
Guitar Give Me Your Song (2002)
Amid the Jasmine (Sefarad Records 2007)
Two Faiths One Voice (2008)
Dai de Cenar (Sefarad Records 2009)
Shiru Hakadosh: Sephardic Liturgical Songs (2012)
Edery Sings Yupanqui (2012)