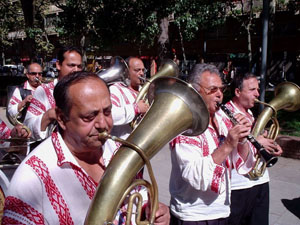 The group is from Moldavia (north-eastern region of Romania, not from the former Soviet state called Moldova). It consists in 10 to 15 Gypsy musicians playing brass instruments. The band leader and his brothers (playing the bass and drum) played with Bregovich in Italy and the whole band played with Emir Kusturica on stage at Odissey 2001 concert in Bucharest. They also represented Romania at highest level at Aichi Expo 2005 in Nagoya – Japan.
The artists are all related to one another. They do not use musical notes. The art is passed through generations by practice and lot of exercise. The origins of this kind of brass gipsy music are unknown. It is said Turkish and/or Russian military bands influenced them during 18th and 19th century wars between the two empires over Moldavian territory.
The band is known locally as Fanfara de la Chetris (former Fanfara din Cozmesti). They released an album in international distribution at ARC Music Int. Ltd. in 2000. Other two albums distributed only in Romania in 2003 and 2006 , produced by Softplus and Roton.
The music they play is traditional gypsy music, Romanian folklore, some new tracks from Kusturica's movie "Black cat, white cat" were added after playing with his "No smoking" band on stage.
The band is suitable for stage show, street theatre, marching and playing, luring people from one stage to another etc.
The instruments used are all brass instruments except a middle size goat skin drum: 2 trumpets, 1 flugelhorn, 1 clarinet, 2 baritones, 2 euphoniums, 2 bass