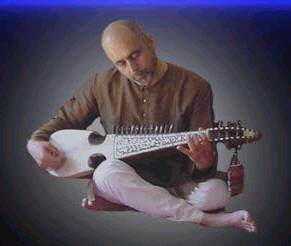 Born in Kabul (Afghanistan), Daud Khan learned how to play the rubab (an Afghan string instrument) with master Ustad Muhammad Umar. After becoming a skillful rubab player, Daud Khan traveled to India to learn sarod (an instrument related to the rubab) with the great sarod master, Amjad Khan.
Daud Khan is currently the director of the Academy of Indian Music in Berlin, Germany. During his shows, he usually performs music with deep Afghan and Middle Eastern influences, accompanied by a tabla player.
Since 2004 Daud Khan is performing with the Ensemble Radio Kabul in concerts and festivals all over Europe and abroad.
Discography:
Tribute to Afghanistan (Felmay, 2004)
The voice of the mystics
The soul of sound
A world of string and sound