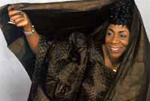 Coumba Sidibe, whose first album was the highest-selling album in Africa for a female vocalist, was known the world over as the multi-titled Queen of Wassulu music.
Coumba's rise to eminence began when she was a leading singer with the group L'Ensemble Instrumentale du Mali and her presence brought Mali's Wassulu tradition of singing to the forefront of the world music scene. Cited by Oumou Sangare and Ramata Diakate as being a primary influence, Coumba Sidibe was highly influential.
She died in Brooklyn, New York on May 10, 2009.