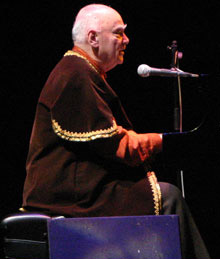 Chingiz Sadykhov was a world-class pianist from Azerbaijan. Maestro Chingiz Sadykhov played piano as a concert pianist and accompanist to the greatest singers of Azerbaijan and Soviet Union for over 50 years. He garnered the coveted title of "Peoples' Artist of Azerbaijan" and performed and taught music around the world.
His album "Songs of Azerbaijan" is a comprehensive musical presentation of love songs and poetic melodies as well as dance tunes of his homeland. In this unique recording, Chingiz Sadykhov arranged folk melodies and compositions by outstanding Azerbaijani composers of the 20th century. His colorful piano style suited the arrangements perfectly.
Chingiz Sadykhov died December 30, 2017 in California.