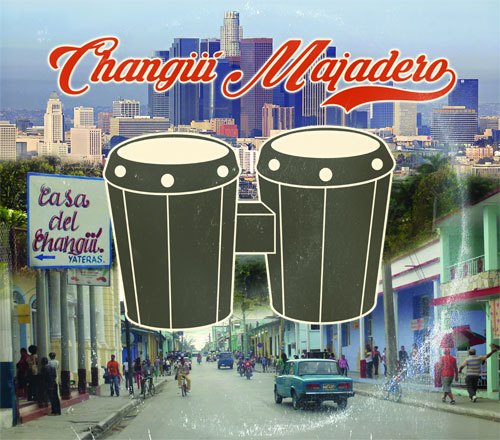 Changüí Majadero – Changüí Majadero (Changüí Majadero Music, 2016)
Cuban changüí from an unexpected place, East Los Angeles in California. The five-piece band Changüí Majadero fell in love with this rural form of Cuban music that mixes the Spanish poetic and guitar traditions with African-rooted light percussion and call and response vocals.
The band is led by Mexican American guitarist and tresero Gabriel Garcia. Garcia fell in love with the music of Grupo Changüí Guantanamo, Cuba's leading changüí ensemble. Gabriel Garcia eventually traveled to Guantánamo Cuba where he met one of the founding members of Grupo Changüí Guantanamo. "I fell in love with the culture, the people, the music," says Garcia.
Most of the tracks on the self-titled album, Changüí Majadero , are traditional songs from the Guantanamo area although one composition, "Changüí Pa Ayotzinapa," is an original song with the spirit of a Mexican corrido in a changüí form, appealing for justice for the 43 murdered Mexican students from the Ayotzinapa Rural Teachers' College who "disappeared" in Iguala, Guerrero.
The lineup on Changüí Majadero includes Gabriel Garcia on tres and vocals; Alfred Ortiz on vocals and maracas; Norrell Thompson (from Puerto Rico) on vocals and guayo; George Ortiz on bongo del monte; and Yosmel Montejo on bass. Guests: Eddy Ortiz on guayo; Martha Gonzalez on vocals; Feliciano Arango on bass; Carlos Sanchez on vocals and trumpet; Calixto Oviedo on drums; Roberto Lopez on bass; and Joey de Le.
Changüí Majadero is a stirring album by a band passionate about changüí, a style that deserves wider recognition.
Buy Changüí Majadero