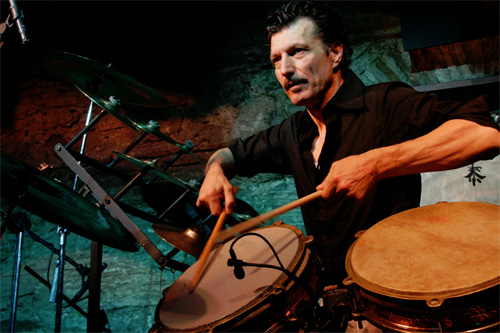 Turkish music specialist Burhan Öçal has made the bridging of musical cultures his central mission. A native of Kirklareli, near Istanbul, he grew up in a musical family. From his father he learned a variety of percussion instruments, while his mother introduced him to religious vocal music. At an early age he was influenced by and began performing Turkish court and folk music, as well as neo-classical Turkish music. After his first contact with Western music, he became interested in combining other genres and cultural traditions, such as jazz and Western classical music, with his own.
Burhan Öçal's instruments are as diverse as his music. In addition to a wide variety of percussion, such as the Darbuka (a vase-shaped drum played with the fingers), Kos (kettle drum), Kudum and Bendi, he is a highly skilled player on a number of stringed instruments, including the Divan-Saz, Tanbur and Ud. His expressive voice adds to the spectrum of musical elements at his command.
Since 1977, Burhan Öçal has divided his time between Istanbul and Zurich, Switzerland. He has won worldwide recongnition for touring and recording with his own Istanbul Oriental Ensemble, which performs traditional Gypsy and Turkish folk music. Seeking out a range of world-class collaborators, he has also performed with pianist Maria Joao Pires, jazz keyboardist (and Weather Report founder) Joe Zawinul and classical guitarist Eliot Fisk. He has toured and recorded with German fusion specialists in the Burhan Öçal Group, and as a guest artist with the George Gruntz Concert Jazz Band from Switzerland as well as the Australian pianist Peter Waters.
Burhan Öçal made his United States debut in February 1998 with Eliot Fisk followed by a tour with the George Gruntz Band, performing at the Montreal Jazz Festival, and in Vancouver and New York City. Mr. Öçal collaborated with the young Canadian saxophone player Seamus Blake in a residency at the University of Southern California and the University of Nebraska at Lincoln. He then brought The Seamus Blake Ensemble to the Istanbul Jazz Festival and the Izmir Music Festival in Turkey.
Öçal also joined the Kronos Quartet to premiere a new work of his own with them in October 2001. The Orange County Philharmonic Society's Eclectic Orange Festival commissioned Mr. Öçal al to write a piece for the Kronos Quartet as well as Öçal and the zurna player, Ahmet Elbasan. The work was repeated with Kronos in June 21 at the Turkish Music Festival in Istanbul. Mr. Öçal returned to the Montreal Jazz Festival that summer, this time with an oriental-style funk ensemble, Groove ala Turca, featuring Jamaaladeen Tacuma (of Ornette Coleman's band) as well as the Istanbul Oriental Ensemble.
In March 2001, Öçal appeared at a benefit for the Red Cross in Los Angeles featuring Sting and Argentine actress Mia Maestro. New collaborations include a tour with Huse Sermet, the noted French/Turkish pianist, in 23 and a tour and recording of Öçal's first orchestral compositions (for percussion/violin/voice) with the Zurich Chamber Orchestra conducted by Howard Griffith.
Burhan Öçal has an extensive discography with several award-winning recordings. His first disc with his Istanbul Oriental Ensemble, Gypsy Rum won the 1995 German Record Critic's Award and was a best-seller on the world music charts. The follow-up to that disc, Sultan's Secret Door received the rare honor of a second German Record Critics Award. Later came Caravanserie.
He also received the Prix Choc in 1996 for his solo disc titled Ottoman Garden, Turkish classical music of the 17th century (Harmonia Mundi).
In 1998 Öçal formed the Classical Ensemble of Istanbul and released Orient Secret, a recording of the traditional art music of Islam. He also released a trance/ambient recording, Sultan Orhan, with Peter Namlook on the Fax label, his second CD with the German techno artist. His next album New Dream was released by Doublemoon Records in June 2005.
Discography:
Jardin Ottoman (L'Empreinte Digitale, 1996)
Sultan's Secret Door (Network, 1998)
Gypsy Rum (Network/Harmonia Mundi / Network, 1998)
Orient Secret (L'Empreinte Digitale, 1999)
Groove Alla Turca (Double Moon, 1999)
Heilmusik der Völker (Ears of Eden, 2001)
Sultan Osman (Universal Music Turkey, 2003)
Kirklareli il Siniri (Double Moon, 2003)
Sultan Orhan (Double Moon, 2004)
New Dream (Double Moon, 2005)
Karadeniz (Ada Yayincilik, 2006)
Trakya Dance Party (Doublemoon, 2006)
Grand Bazar (Network Medien, 2006)
Aleppo- Liegt Hinter Uns ‎(Jazzwerkstatt ML 7010, 2016)