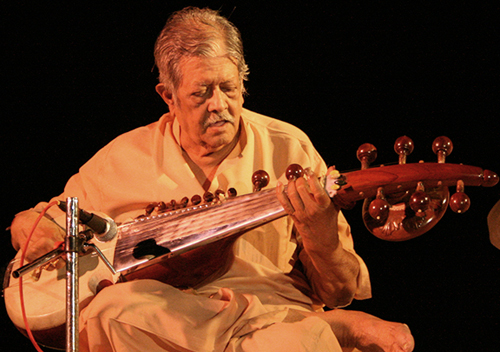 Pandit Buddhadev Dasgupta was a virtuoso performer who created a uniquely modern style rooted in a profound knowledge and feeling for raga music. He will be remembered along with giants such as Vilayat Khan, Ravi Shankar and Ali Akbar Khan for defining instrumental music in North India after independence.
Buddhadev was born in Bihar in 1933. For an extended period of thirty-eight years, he undertook a monumental regimen of practice and study under the illustrious Acharya Radhika Mohan Maitra, a celebrated performer and teacher. Radhika Mohan Maitra was known not only for his brilliance of technique but also for his scrupulous attention to correct and logical exposition of ragas as well as for his vast repertoire of ragas and compositions. These qualities were passed to his foremost student Buddhadev Dasgupta.
Pandit Buddhadev Dasgupta's style represented a modern synthesis of the rababiya and beenkar styles. This synthesis manifested itself in his brilliant combination of complex right hand picking patterns with fluid left hand movement. Buddhadevji's baaj, however, was not a mere synthesis of these two idioms but a thrustful, avant-garde approach that gave him a totally new dimension to sarod playing and to Indian instrumental music in general. A hallmark of the music of Buddhadev Dasgupta is the architecture of his formal organization. Grand large scale structures are eveloped through systematic exposition of traditional forms.
Pandit Buddhadev Dasgupta is perhaps unmatched in the variety and complexity of his taans (rapid melodic sequences that convey the contours of a raga). Long flowing melodic lines are masterfully constructed from smaller phrases which are concise formulations of the essential grammar of the raga. Pandit Buddhadev Dasgupta is also well known for his intense cultivation of laykari. Rhythmic patterns of striking beauty and force are an essential part of his playing.
Dasgupta recorded for several major record labels, including HMV, Nimbus and Columbia. As as scholar and a musician, he contributed to Nimbus Records' four-volume "Raga Guide", and to "Alap" a book and ten-volume introduction to Hindustani Music published by Times Music. Panditji was on the panel of experts of All India Radio, Vishwa Bharati University, Rabindra Bharati University, Allahabad University, Indira Kala Sangeet Vishwavidyalaya, Sangeet Research Academy, the Rotterdam Conservatorium of Music, and the Den Haag Conservatory. Buddhadev was a "Top Grade" artist of AlR, and revered in musical communities as a connoisseur's musician.
A recipient of many awards, Buddhadev Dasgupta was decorated with such coveted honours as the Shiromani Award (1992), Sangeet Bhaskar of the Pracheen Kala Kendra (1995), and most importantly, the Sangeet Natak Akademi Award (1993). He was also an active and successful teacher, and a number of his disciples have made an impressive mark with music-lovers.
Pandit Buddhadev Dasgupta died on January 15, 2018.
Partial discography: