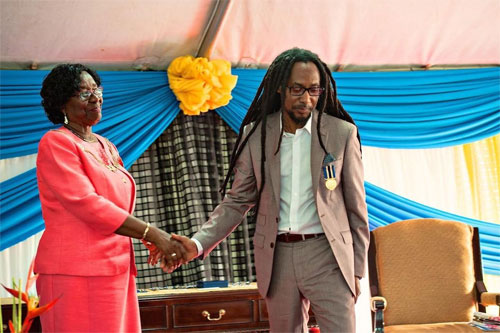 Reggae Artist, philanthropist and CEO of non-profit They Often Cry Outreach (TOCO) Taj weekes has been awarded the Les Pitons Medal (Gold) under the Order of Saint Lucia by the Governor General of Saint Lucia, H.E. Dame Pearlette Louisy.
Weekes' citation lauded him for the consistency with which TOCO continues to implement programs that honor TOCO's aim to elevate the human condition for youth, especially those at risk. The citation noted that "Mr. Weekes has shown tremendous commitment to service with his hands-on approach to implementing TOCO's programs".
Taj Weekes' active participation in TOCO's programs is at the center of the Foundation's success, a factor that has earned him recognition in various spheres. These include the International Consortium of Caribbean Professionals who conferred on him the distinction of Goodwill Ambassador (2007), the Brooklyn-based Saint Lucia House Foundation who awarded him with their humanitarian award (2012) and, UNICEF which officially appointed Weekes a Champion for Children in Eastern Caribbean (2013).
Weekes uses his celebrity as a reggae artists to serve and speak on behalf of the children of the Caribbean. He personally travels and distributes donated items to the islands, lectures to high school and college students on topics ranging from volunteerism to acceptance and tolerance, and donates his own money to ensure that TOCO can fulfill its missions.