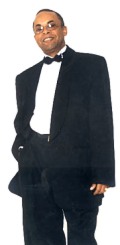 For the past decades, Havana-born Adalberto Alvarez has been passionately involved in the making and advancement of son, the most popular and powerful musical form of his native Cuba. In his particular expression, he incorporates the best of the traditional elements and the abounding modernistic influences in a highly volatile mix that appeals equally to the older and the younger generations alike. Adalberto successfully excites the listener while irresistibly engaging the dancer. He masterfully achieves a perfect balance between musician and dancer, never failing to maintain the untainted musical essence of his people.
Influenced initially by Arsenio Rodriguez and the great Cuban troubadours, Manuel Corona, Sindo Garay, and Miguel Matamoros, Alvarez's music has continued to evolve, becoming an undeniably powerful force in the contemporary Cuban soundscape. Adalberto Alvarez is currently the most covered Cuban artist. His compositions have reached all corners of the world and have been recorded by the likes of Gran Combo, Sonora Poncena, Roberto Roena, Willy Rosario, Cano Estremera, Andy Montanez and Gilberto Santa Rosa in Puerto Rico; Oscar De Leon in Venezuela; Juan Luis Guerra in the Dominican Republic, and many others in the USA and Europe. A conservative estimate is that there are well over 200 different versions of his songs in the Latin world.
Alvarez's talent flourished in an actively musical environment. His father was the director of Avance Juvenil, the local group that would serve in 1973 as the launching pad for Adalberto's career as a professional bandleader. His mother was a singer and pianist, who taught him the intricacies of harmony singing at an early age. He graduated from the acclaimed Escuela Nacional de Arte (ENA), where he directed its Orquesta tipica -a charanga style band that served as an experimental workshop for many of his ideas for nearly eight years. While at ENA, he began writing and arranging for established groups, such as the celebrated Conjunto Rumbavana that made El Son de Adalberto a hit and popularized several other of his compositions.
In 1978, Alvarez relocated to Santiago de Cuba, where his legendary group Son 14 was founded. Their premier recording A Bayamo en Coche yielded the earliest in a sustained string of nationwide hits. The first of his many tours outside Cuba was to Barquisimeto, Venezuela in 1980, where Son 14 won the Crepusculo Dorado award. In early 1984, Alvarez formed the quintessential Cuban dance group, Adalberto y su Son, that has received international acclaim and gathered loyal followers worldwide.
In recognition of his extraordinarily unique talent, Alvarez has been presented with numerous awards around the globe. Even as far as Japan, his Sueño con una Gitana was selected the #1 Latin American album by one of Tokyo's leading music publication.
In the midst of ambitious projects, Adalberto Alvarez Zayas turned 55 year-old in 2003. Adalberto rejoiced being named a Prodigal Son of Camaguey, honoring his 55th birthday and 30-year artistic career. There were over 15,000 people at the gala, including the presence of other musicians from the territory where he began his professional life in 1973. The Camaguey Hotel dedicated a room to him designed similarly to the atmosphere of his house. Alvarez wanted to be a pilot and ended up studying bassoon at the National Art School. His loyalty to son led to his current nickname "El Caballero del Son" (The Gentleman of Son).
Discography
El Regreso de Maria
Omara canta el Son
Sueño con una Gitana
Celina, Frank y Adalberto
Nostalgia
Fin de semana
Dominando la partida de Ballymena
El Chévere y el Caballero (Artcolor)
Son en dos tiempos (Artcolor)
Dale como é (Artcolor)
A bailar el toca toca (PM Records, 1996)
Locos por el Son (PM Records)
Adalberto Alvarez y su Son en vivo (PM Records)
Grandes éxitos (PM Records)
Los Super éxitos de Adalberto (Caribe Productions SON 14)
Adalberto y su Son, Noche sensacional (Caribe Productions)
A Bailar el Toca Toca (Caribe Productions)
Jugando con Candela Caliente, Caliente (Bis Music)
Magistral, with Michel Camilo (Milan Latino)
El Son de Adalberto Suena Cubano (Bis Music, 2002)
Para Bailar Casino (Bis Music, 2003)
Mi Linda Habanera (Bis Music, 2005)
Gozando en La Habana (Bis Music, 2008)
El Son De Altura (Bis Music, 2010)