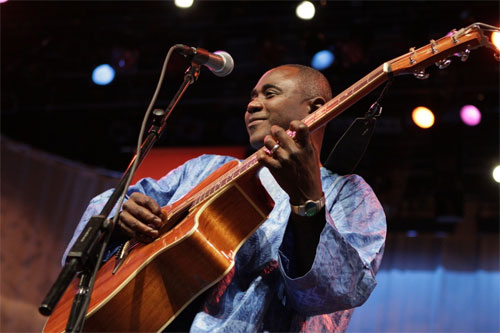 Abdoulaye Alhassane was born in 1963 in Niamey (Niger) to a Sonrai family from Gao (Mali). He is a superb multi-instrumentalist, composer, arranger, and producer. His principle instrument is guitar and he sings and plays molo, gurmi and a number of other Central Saharan string instruments.
Toure was musical director, composer and lead guitarist for the popular roots band Mamar Kassey. The band released two CDs, Denke Denke (1999) and Alatoumi (2000) that introduced Toure's guitar skills.
Toure also launched the careers of Moussa Poussy and many other singers from Niger, for whom he composed and arranged all of the music.
Abdoulaye Alhassane Toure is a master of the music of many Saharan cultures and languages: Songhai, Sonrai, Tamashek, Peul, Zerma, Hausa, and others. His original music is rich in complex rhythms, beautiful blue modes, and full of jubilant enthusiasm.
Discography:
Denke Denke, with Mamar Kassey (1999)
Alatoumi, with Mamar Kassey (D'Aqui, 2000)
City of Askia (Flying Note Records, 2007)
Sahara Spirit