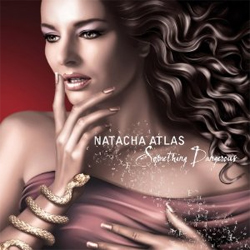 New York, USA – World music diva Natacha Atlas is returning with a new album, Something Dangerous?, and a new sound.
Due for release in the US on May 20th and in the UK on May 19th, the recording has been produced by (amongst others) Sugababes producer Brian Higgins and features guest appearances by Sinead O'Connor, Princess Julianna, Abdullah Chhadeh and the late Sami El Babli. There's also a So Solid Crew remix currently doing the rounds in the clubs.
With Something Dangerous?, Natacha Atlas zips Middle Eastern music straight to the heart of current UK pop, pulling in as she does so dance music, rap, drum'n'bass, R&B, Hindi pop, film music and French chanson. The success of her earlier work, both in the Middle East and in the West, including a top ten hit in France, has shown just how alluring a musical bridging of the divide can be.
Something Dangerous? not only combines more styles than ever, but for the first time on an Atlas album it features guest vocalists, and a great deal more singing in English than she's done before. But it's no abandonment of Arabic; she embraces and combines the two languages, as well as Hindi and French.
Buy Natacha Atlas' albums: