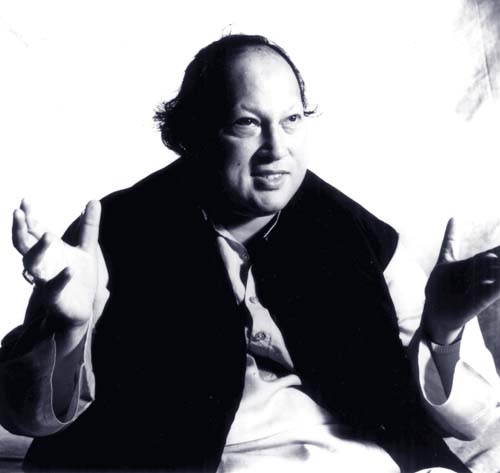 Qawwali, an Arabic word eaning "utterance," is the devotional music of the Islamic mystics, or, as they are known in their regions, Sufis. The term includes both medium and style in its performance, and has been a dominant feature of Islamic culture since the 12th century. The Qawwali form was introduced by Hazrat Amir Khusrou in Delhi. He was a disciple of the Sufi saint, Ali, whose shrine is also in Delhi. Like a Classical Indian Raga, Qawwalis are devotional songs, but like the romantic Ghazals (a slower and more secular Indian song-form also developed by Khusrou), they express their sentiments with poetry set to music, a lyrical and rhythmic form that stirs up the audience to sing and dance. Qawwalis typically have a lead singer or two, a harmonium, a dhol and/or a tabla player and can feature clapping and chorus singing.
It was the energetic recordings and concerts of Nusrat Fateh Ali Khan (1948-1997), the late, great Pakistani artist, that first introduced Qawwali music to Western audiences. His singing effortlessly transcended language and cultural barriers, and his spirit reached and moved people all over the world.
Two mainstream artists, Ustad Nusrat Fateh Ali Khan (deceased August 1997) and the Sabri Brothers, first introduced fusion into Qawwali.
Today, Qawwali is seen as one of the world's most passionate and vibrant forms of music.