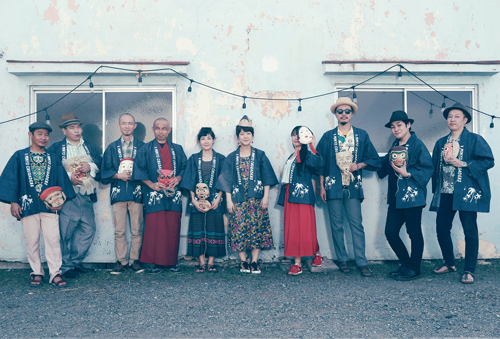 In the late 1990s, guitarist Katsumi Tanaka moved to Fussa, a city in western Tokyo immersed in counter-culture folklore. Initially uninterested in min'yō, a catastrophic event in recent Japanese history led Tanaka on his current path: "Following the Tohoku earthquake of 2011, I reflected on my life, work and identity. A fan of world music, I began searching for Japanese roots music I could identify with. Discovering mid-late 20th century acts Hibari Misora, Chiemi Eri and the Tokyo Cuban Boys, I was captivated by their eccentric arrangements and how they mixed min'yō with Latin and jazz."
Tanaka met vocalist Freddie Tsukamoto, who was performing in a session band as a soul singer. Mindful that Freddie's true passion was min'yō, Tanaka asked him to form a band to revive this style. Freddie became very interested in min'yō after hearing a song from his birthplace on a TV competition while in a restaurant. It was an eye-opener. Until then he had been an aspiring jazz singer although he was uncomfortable singing in English. The restaurant owner told him a min'yō teacher was his neighbor and the rest is history.
"For Japanese people, min'yō is both the closest, and most distant, folk music" clarifies Katsumi Tanaka: "We may not feel it in our daily, urban lives, yet the melodies, the style of singing and the rhythm of the taiko drums are engrained in our DNA".
Katsumi and Freddie invited other musicians like local drumming legend Sono and for the first few years they played low-key concerts. Things changed when bassist DADDY U, a veteran of the Tokyo roots music scene and the well-known Ska Flames, joined the band.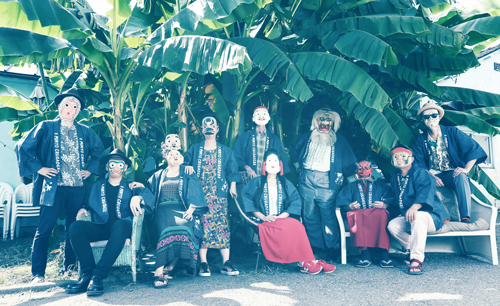 Through DADDY U, the musicians met keyboard player Moe, the leader of Caribbean jazz outfit Kidlat; saxophone player Koichiro Osawa, a member of Japanese-reggae/ska groups Matt Sounds and J.J. Session and regular session musician for reggae musicians visiting Japan; trumpeter Yamauchi Stephan, also a member of J.J. Session; percussionist Mutsumi Kobayashi of Tokyo's cumbia Banda de la Mumbia; Irochi, conga player with Afro Cuban band Cubatumb; and vocalist Meg, a member of esteemed tropical DJ collective Tokyo Sabroso.
Since then, Minyo Crusaders have become a regular act on the Tokyo music scene and went national in 2018 through festivals such as Fuji Rock.
The Minyo Crusaders in 2019 included Freddie Tsukamoto (vocals); Meg on vocals, melodica; Katsumi Tanaka on guitar; DADDY U on bass; Moe on keyboards; Sono on timbales; Mutsumi Kobayashi on bongos; Yamauchi Stephan on trumpet; Koichiro Osawa on saxophone; and Irochi on congas.
Originally sung by fishermen (Kushimoto Bushi; Mamurogawa Ondo), coal miners (Tanko Bushi) and sumo wrestlers (Sumo Jinku), these songs deal with topics such as the returning spirits of ancestors (Hohai Bushi), Japan's smallest bird (Toichin Bushi) and a bride's undying love for her husband's pockmarked face (Otemoyan), evoking nostalgia for a forgotten Japan. "As a traditional performing art, min'yō is considered highbrow, yet these are mainly songs for working, dancing or drinking – we want to return them to their literal meaning as 'songs of the people' ".
Discography:
Echoes of Japan (Mais Um Discos , 2019)
Author:
Angel Romero
Angel Romero y Ruiz has been writing about world music music for many years. He founded the websites worldmusiccentral.org and
musicasdelmundo.com
. Angel is also co-founder of the
Transglobal World Music Chart
. Angel has also produced and remastered world music studio albums and compilations for labels such as Alula Records, Ellipsis Arts, and Music of the World.