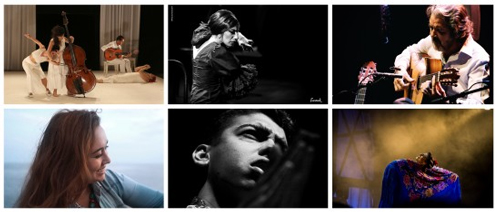 The SGAE Foundation is set to present a new edition of the Flamencos y mestizos series from April 11 through April 13 at Sala Berlanga in Madrid. The showcase will feature dance, singing and guitar performances by Encarna Anillo, Mónica Iglesias, 'El Purili', Águeda Saavedra, Rafael Riqueni and Avda Yermiyahu.
Flamencos y mestizos will start on Thursday, April 11, with the versatility of Madrid dancer Monica Iglesias (winner of the Desplante Award in La Union 2108) and the voice full of nuances of Cádiz-born Encarna Anillo, veteran cantaora (singer) nicknamed 'La Gades'.
On April 12, the Sala Berlanga will host the movement art of Malaga dancer Águeda Saavedra, an artist forged in flamenco tablaos (nightclubs), accompanied by "El Purili", a young rising cantaor from Cádiz.
The series will conclude with a multifaceted show on Saturday, April 13: a pairing of Israeli dancer and choreographer Adva Yermiyahu and one of the finest guitarists in Spain, Rafael Riqueni. The show fuses contemporary flamenco, traditional flamenco, performance and visual theater along with the delightful guitar of Sevillian maestro Riqueni.
Flamencos y mestizos is a showcase where all the expressions that move and thrill have a place. Created in 2015, it has become a window for emerging artists who explore the border between deep flamenco and mestizo flamenco through compositions, dance and song. All the expressions that move and thrill have a place in this encounter. This series is directed by producer, composer and singer Paco Ortega.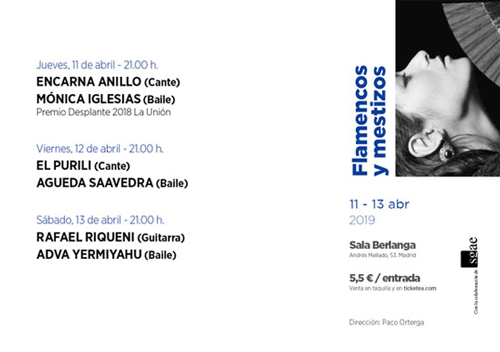 Program
Thursday, April 11, 9:00 p.m.
Encarna Anillo (vocals)
Monica Iglesias (dance)
Friday, April 12, 9:00 p.m.
"El Purili" (vocals)
Águeda Saavedra (dance)
Saturday, April 13, 9:00 p.m.
Rafael Riqueni (guitar)
Adva Yermiyahu (dance)
Sala Berlanga, Calle Andrés Mellado,
Price: 5.50 euros. Tickets available at box office and ticketea.com
Author:
World Music Central News Department
World music news from the editors at World Music Central