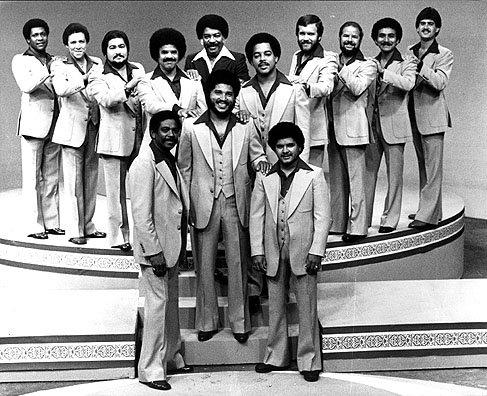 El Gran Combo de Puerto Rico began after the breakup of the Combo de Rafael Cortijo in 1962. At the time, several former members met with Rafael Alvarez Guedes, a business manager, with the purpose of forming amusical group that would accompany Dominican singer Joséito Mateo in a recording for the Gema label. The album, titled Meneame los mangos (Shake my mangos), featured Rafael Ithier, Eddie Pérez, Hector Santos, Kito Velez, Martin Quiñones, Miguel Cruz and Roberto Rohena. The group, baptized then by Alvarez Guedes as El Gran Combo, met again to set the foundation of what would be one of the most prestigious nationally and internationally.
After a stormy beginning, the quality of their musicians opened the doors to WIAC radio, where they started a show together with Fidel Cabrera. Little by little, they became better known in Puerto Rican homes. On May 26 of they that year they made their first public presentation at the Bayamón Rock and Roll club. Later they moved over to WKAQ, where the group had its TV debut on "La Taberna India (The Indian Tavern). They later played at La Concha Hotel, in a tribute to Rafael Cortijo.
After that, singer Chiqui Rivera left the group and Sammy Ayala recommended a young man from Trastallares named Junior Montañez as a replacement. During his premiere, at WKAQ, the singer performed a number that impressed several of those who were present, including Felipe "LaVoz" Rodríguez, who told him that there were too many 'Juniors' in the business and that he should change the name for "Andy." Since then,and for the next 15 years, Andy Montañez, became a legendary figure in Latin American music. After that, Roberto Rohena returned and stayed with the Combo for seven years, before leaving permanently to create his Apolo Sound.
Two days before the murder of President John F. Kennedy, the group's first album, Acángana, came out. The island was in mourning and the producers of the album, the brothers Alvarez Guedes, stopped the distribution in Puerto Rico and sent the recording to Panama, Venezuela and Mexico, where it got considerable airplay. Afterwards, it arrived to New York and finally to Puerto Rico, where it reached gold status.
The following year, El Combo performed in New York City forthe first time. There, they had a great success at the top dance halls,including the Palladium Ball Room, the Bronx Casino, the Manhattan Center and The Caborrojeño. From there, other doors were opened in Curacao, Panama, Santo Domingo, Venezuela, Colombia and the rest of the American continent, where their songs reached the top of the charts. During that time the Combo acquired so many fans, that soon they were given an exclusive contract with the Puerto Rican TV show "El Show de las 12," produced by Paquito Cordero.
The excess of publicity through the TV screen shrank the demand for the group at dance halls and public and private celebrations,because the fans enjoyed their music daily from their arm chairs. The album sales declined and so did the bookings. After recording LPs, in 1967 the group won its second "gold album" for Boogaloo con el Gran Combo.
Two years later, the group's stability was at stake. Several musicians left and joined the ensemble. Roberto Rohena and Elias Lopes left el Gran Combo. They were replaced by Baby Serrano and Edwin Cortés. Later, Hector Santos and Victor Pérez also left, and they were replaced by José Duchesne and Mike Torres. Mike left and was eventually replaced by Tommy Sánchez. Soon after, Edwin Cortés left and Gerardo Cruz joined the group, staying for ten years. In spite of the difficulties, the members were able to get along and"Los mulatos del sabor" became popular again.
The decade of the 1970s began with other changes. Milton Correa left and Miguel Marrero joined El Gran Combo. Mike Ramos joined the band and Mike Torres left. He was replaced by Alfredo (Taty) Maldonado. In spite of the renovation, the orchestra continued winning followers and that year they received yet again the "Momo de Oro, the top Venezuelan award, for best international orchestra. The group had achieved international fame.
Representatives of several record labels entered into conversations with El Gran Combo, but they did not prosper. Gema did not renew their contract. Without a record company the orphaned group took the difficult decision of producing its own albums. To do this, Andy had to mortgage his home for $7.000 payable in 30 days. That's how the EGC label was born. Its first release was Estamos primeros, El Gran Combo (We Are first, the Gran Combo).
In 1971 the combo added the trombone, skillfully played by Epifanio (Fanny) Ceballo, who remained with the group until he died of cancer in 1991. The first release with the new sound was De punta a punta. It included the classics "Don Goyo," "Achilipu" and "Le dicen papá."The following year Record World Magazine gave them the award for "El Combodel Año" (Combo of the Year) and they also won the Gold Album Festival in Miami. A little later, singer Pellin Rodríguez left to pursue solo projects. Hewas replaced by Marcos Montañez, Andy's brother. Marcos stayed with the group for about six months, until he was replaced by sonero Charlie Aponte.
One of the group's founders, bassist Miguel Cruz left in1975 due to health reasons. He was replaced by Fernando Pérez. The following year, El Gran Combo's members were declared "Honorary Citizens of New Orleans"and in 1977 they won the Presidential Cup of Venezuela for best international musical group. Sadly, that year other members left. Martin Quiñones retired and Andy Montañez received an offer to sing with Dimension Latina in Venezuela.Substituting Andy was difficult, but they found the right voice in the talented Jerry Rivas.
Many doubted the new singers, but the doubts soon vanished with the recording of "El Gran Combo en Las Vegas," winner of a gold album in 1978.
The decade closed with other important rewards, including an acknowledgment from the Festival of Bomba and Plena of the Institute of Puerto Rican Culture. The new decade began with yet another gold album, "Aqui no se sienta nadie" (No One Sits Down Here); as well as a successful trip to Peru. The following year El Gran Combo received the Calendario de Plata (Silver Calendar) in Mexico, a traditionally difficult market to conquer.
Upon turning 20 years old, El Gran Combo received multiple national and international recognition, including "El Congo de Oro"from Colombia, a Resolution of the Puerto Rican Senate and another from the town of Dorado, as well as a Paoli Prize. Two years later El Gran Combo took its music c to the cold lands from Alaska, where they lit the atmosphere with the heat of their rhythm. They celebrated the visit with Breaking the Ice – El Gran Combo en Alaska, nominated for a Grammy. That year they won another Paoli Prize and the radio station Z-93 dedicated its First National Salsa Day to Rafael Ithier. By then, El Gran Combo had conquered countries like England,Germany, Holland, Switzerland, Spain, Argentina, Venezuela, Japan and the United States.
In 1982 came in a historical concert in the Madison Square Garden, where they celebrated their Silver Anniversary in front of a packed audience that intoned standing "Happy Birthday." Other accolades followed: "The Guayaquil Luminoso" from Ecuador, the "Premio Aplausos a la Mejor Orquesta," a Resolution by the Puerto Rican House of Representatives, another by the town of Bayamon and a proclaim by the town ofJuncos, among others. Five years later El Gran Combo celebrated its 30th anniversary with a series of festivities that included a softball game with current and legendary Major League baseball stars as well as guest artists like Victor Pellot Power, Rubén Sierra and Gilberto Santa Rosa.
The tributes continued in Madrid (Spain), where they held a big celebration and got wide press coverage. Upon their return, the Senate of Puerto Rico honored them and passed a resolution called Embajadores de Nuestra Musica (Ambassadors of Our Music)." But the people of Puerto Rico had its biggest celebration at the Hiram Bithorn stadium in front of thousands of loyal fans who enjoyed the musical history of the "Mulattos del Sabor,"together with Andy Montañez, Gilberto Santa Rosa, Jerry Rivera, Alex D'Castro,Johnny Ventura and La Sonora Ponceña. Two months there was another tribute at the Puerto Rican convention center.
In 2006, they released Arroz con Habichuela ("Rice and Beans") which featured three hit singles: "No Hay Manera" ("There's No Way"), the title song, and "Si la ves por ahí".
On August 9, 2013 founder Eddie "La Bala" Perez died.
On December 12, 2014 the lead singer Charlie Aponte retired.
On January 24, 2015 Anthony Garcia became lead singer, replacing Aponte. Later in 2015, El Gran Combo received the Latin Grammy Lifetime Achievement Award.
Discography:
Menéame los Mangos, el Gran Combo con Joseito Mateo (Gema Records, 1962)
El Gran Combo… de Siempre (Gema Records, 1963)
Acángana (Gema Records, 1963)
Ojos Chinos, Jala Jala (Gema Records, 1964)
El Caballo Pelotero (Gema Records, 1965)
Traigo un Tumba'o, Meneíto Me (Gema Records, 1965)
El Swing del Gran Combo con Pellín y Andy (Gema Records, 1966)
En Navidad (Gema Records, 1966)
Maldito Callo (Gema Records, 1967)
Esos Ojitos Negros (Gema Records, 1967)
Fiesta Con El Gran Combo (Gema Records, 1967)
Boleros Románticos (Gema Records, 1967)
Tú Querías Boogaloo, Toma Boogaloo (Gema Records, 1967)
Pata Pata, Jala Jala Y Boogaloo (Gema Records, 1967)
Boogaloos Con El Gran Combo (Gema Records, 1967)
Tangos (Gema Records, 1967)
Merengues (Gema Records, 1968)
Guarachas (Gema Records, 1968)
Bombas, Bombas, Bombas (Gema Records, 1968)
Los Nenes Sicodélicos (Gema Records, 1968)
Latin Power (Gema Records, 1968)
Smile, It's El Gran Combo (Gema Records, 1968)
Este Si Que es el Gran Combo (Gema Records, 1969)
Estamos Primeros (EGC Records, 1970)
De Punta a Punta (EGC Records, 1971)
Por el Libro (EGC Records, 1972)
En Acción (EGC Records, 1973)
5 (EGC Records, 1973)
Disfrútelo Hasta el Cabo! (EGC Records, 1974)
7 (EGC Records, 1975)
Los Sorullos (EGC Records, 1975)
Mejor Que Nunca (EGC Records, 1976)
Internacional (EGC Records, 1977)
En Las Vegas (Combo Records, 1978)
¡Aquí No Se Sienta Nadie! (Combo Records, 1979)
Unity (Combo Records, 1980)
Happy Days (Combo Records, 1981)
Nuestro Aniversario (Combo Records, 1982)
20th Anniversary (Combo Records, 1982)
La Universidad de la Salsa (Combo Records, 1983)
In Alaska: Breaking The Ice (Combo Records, 1984)
Innovations (Combo Records, 1985)
Nuestra Música (Combo Records, 1985)
Y Su Pueblo (Combo Records, 1986)
25th Anniversary (Combo Records, 1987)
Romántico y Sabroso (Combo Records, 1988)
¡Ámame! (Combo Records, 1989)
Latin Up! (Combo Records, 1990)
20 Grandes Éxitos (Discos Fuentes, 1990)
Erupción (Combo Records, 1991)
¡Gracias!: 30 Años de Sabor (Combo Records, 1992)
30 Aniversario: Bailando Con el Mundo (Combo Records, 1992)
First Class International (Combo Records, 1993)
Puerto Rico: La Ruta del Sabor (Combo Records, 1994)
Para Todos los Gustos (Fonovisa Records, 1995)
The Best (Sony Discos Norte, 1995)
Por Todo lo Alto (Fonovisa Records, 1996)
16 Boleros (Discos Fuentes, 1996)
35th Anniversary: 35 Years Around The World (Combo Records, 1997)
Pasaporte Musical (Combo Records, 1998)
Nuevo Milenio: El Mismo Sabor (Combo Records, 2001)
40 Aniversario en Vivo (BMG, 2002)
Estamos Aquí…¡Y de Verdad! (Sony Discos Norte, 2004)
Arroz Con Habichuela (Sony Discos Norte, 2006)
Sin Salsa No Hay Paraíso (Sony Discos Norte, 2010)
50 Aniversario, Vol. 1 (EGC Records, 2013)
Alunizando (EGC Records, 2016)
Author:
Angel Romero
Angel Romero y Ruiz has been writing about world music music for many years. He founded the websites worldmusiccentral.org and musicasdelmundo.com. Angel produced several TV specials for Metropolis (TVE) and co-produced "Musica NA", a music show for Televisión Española (TVE) in Spain that featured an eclectic mix of world music, fusion, electronica, new age and contemporary classical music. Angel also produced and remastered world music albums, compilations and boxed sets for Alula Records, Ellipsis Arts, Music of the World.