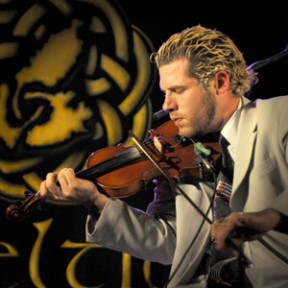 Ashley Dwayne MacIsaac was born on February 24, 1975 in Creignish, Nova Scotia, Canada. Growing up on Cape Breton Island, Nova Scotia, Ashley McIsaac never listened to pop music, with the exception of his brother's AC/DC and Ozzy Osbourne records. Instead, he listened to the recordings of the local master fiddlers like Angus Chisholm, Winston "Scotty" Fitzgerald, and Buddy MacMaster, who would become McIsaac's dominant influence. He picked up the fiddle at age eight, and immersed himself in the instrument, playing anywhere and everywhere he could.
By 14, MacIsaac was performing at local festivals, pubs, and church and community-hall dances. Soon he was touring Celtic communities in Massachusetts and California, performing with local musicians, and at 16 he recorded 1992's mostly acoustic-based, traditional Close To The Floor album, following it a year later with A Cape Breton Christmas. By 18 he had toured nationally with Toronto singer John McDermott and The Chieftains. "I did 160 dates in four months," he recalls. "I was still in school but I was playing two to four nights a week doing concerts, wakes and funerals."
Tipped off by his wife, Joanne, who had seen MacIsaac play at a Cape Breton dance in 1992, veteran avant-garde composer Phillip Glass contacted Ashley to take part in a performance for German playwright George Bruckner's play "Woyzeck." From that success Ashley received a call from Paul Simon who asked him to perform on an Edie Brickell session he was producing. McIsaac then backed Simon and Brickell at a Carnegie Hall show for the Tibet House Benefit in 1994.
When Ashley MacIsaac burst on the worldwide scene with 1995's Hi, How Are You Today? (A&M) he scored the kind of coup instrumental artists often dream of. Going triple-platinum in Canada and breaking down radio barriers with the Gaelic single "Sleepy Maggie," Ashley became an immediate pop icon, rebellious and exuberant, resplendent in kilts, army boots and combat pants.
Using rock musician attitude, Ashley made an aesthetic of it onstage, effortlessly blending his Celtic heritage with contemporary elements such as punk, electronica, hip-hop and grunge. Audiences who may have felt alienated by Ashley's disregard of convention were instantly won over by his dazzling displays of grit, passion and authority. Recalls Ashley at the time, "My father once told me, 'If you want to play the fiddle, get mad at it or don't play it at all.'" Ashley's follow-up, Fine, Thank You Very Much was a more traditional but no less original outing that delivered on the promise of his debut, and he again blazed through a tour that included a now-notorious appearance on "Late Night With Conan O'Brien" during which the obstreperous Ashley flashed the cameras in his kilt.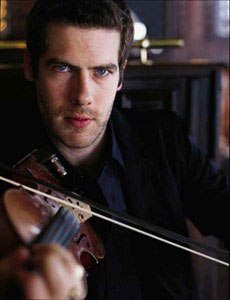 Following a departure from A&M in 1999, Ashley found himself at a personal and professional crossroads. Biding his time, he recorded and independently released Fiddle Music 101, an album of traditional fiddle instrumentals made with Halifax fiddler David Maclsaac, and he re-released his 1993 album, A Cape Breton Christmas. Meanwhile, he contemplated on what shape his next record would take. "I knew I had to take a giant step forward and be unafraid and unapologetic about whatever I chose to do. I wanted to make a picture of me at the specific time I was in and I had to let myself be very free to do so. I had to be fluid, and approach the unknown."
Signed to Decca by then VP of A&R Rory Johnston, Ashley was introduced to Roger Greenwalt (No Doubt, Nils Lofgren), who jumped at the chance to work with Ashley on this bold new adventure. MacIsaac was just days into recording his first album in five years when tragedy struck: his prized fiddle, a German Student make – the same instrument he picked up at age eight, the same one he played throughout his teens, had used on all his recordings, the same one he thrilled audiences with across the globe, the fiddle he knew inside and out – broke apart, right in his hands. "I literally wore it out," Ashley wistfully recalls. "The wood had gotten so thin, it just couldn't be saved. It was gone…But then I remembered, 'It's not the truck, it's the driver,' and I was ready to press onward." A suitable replacement was found – oddly enough, an exact replica of his German Student make – and an emboldened Ashley charged through the rest of the recording process like a man reborn. The result was Ashley Maclsaac, the Cape Breton wonder's debut on Decca.
Aside from Ashley's fiddling, Greenwalt developed all of the instrumentation and electronic loops himself. Tracks like "Cello Song," "Save Me From Tomorrow," "Grapes," and "Captain America" were already in the can when co-producer and mixer Kevin Killen (U2. Peter Gabriel, Elvis Costello) came on board. With characteristic tact he asserted that the tracks needed real drums and bass as well as some atmospheric guitar and keyboards. "The additions made Ashley's performances even more stellar," recalls Killen. Killen himself brought in Donal Lunny's "This is My Father" and Anuna's "The Wedding Funeral," which Greenwalt sampled and reworked.-Meanwhile A&R man Johnston introduced "Lay Me Down" (the album's lead-off single) and "I Don't Need This."
In 2016 Ashley MacIsaac and Jay "Sticks" Andrews released FDLEЯ, a mix of dance and experimental Celtic music.
Discography:
Close to the Floor (1992)
A Cape Breton Christmas (1993)
Hi, How Are You Today? (A&M, 1995)
Fine, Thank You Very Much (A&M, 1996)
Helter's Celtic (1999)
Cape Breton Fiddle Music Not Calm, with Howie MacDonald (2001)
Ashley MacIsaac (Decca, 2003)
Live at the Savoy (2004)
Fiddle Music 101, with Dave MacIsaac (2005)
Pride (2006)
The Best of Ashley MacIsaac (2008)
Crossover (2011)
Beautiful Lake Ainslie, with Barbara MacDonald Magone (2014)
FDLER (So Plaid Music, 2016)
Author:
Angel Romero
Angel Romero y Ruiz has been writing about world music music for many years. He founded the websites worldmusiccentral.org and musicasdelmundo.com. Angel is also co-founder of the Transglobal World Music Chart.
Angel has also produced and remastered world music studio albums and compilations for labels such as Alula Records, Ellipsis Arts, and Music of the World.