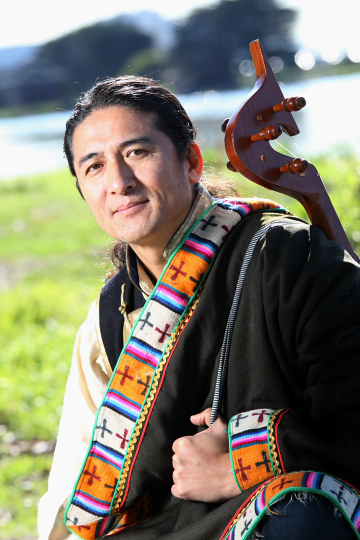 Techung is a prominent Tibetan singer-songwriter living in exile in the San Francisco Bay Area. He is best known for his performances of traditional Tibetan music dance and opera under the name Tashi Dhondup Sharzur. He uses his childhood nickname Techung when performing as a solo artist.
Whether performing in traditional or contemporary styles, Techung's dual goals are to revive Tibetan music in the Tibetan community and to expose the rich performing cultural tradition of his homeland to the world community.
Techung grew up in Dharamsala, India rather than in his native Tibet because in 1949 China occupied his homeland.
He and his family were forced to resettle in India along with tens of thousands of other Tibetans. Because of the limited educational opportunities open to young refugees in the 1970s he was enrolled at age 9 in the newly formed Tibetan Institute of Performing Arts (TIPA) although his family did not have an artistic background.
In his 19 years of residency at the Institute he studied all aspects of the Tibetan performing arts: folk, court and religious music traditions; through the oral teaching tradition used by the venerated Tibetan elders with whom he was honored to study.
He toured with TIPA in its first international tour as a leading child actor in 1975-76 and for many years afterwards. After emigrating to the U.S. he co-founded the San Francisco-based Chaksampa Tibetan Dance and Opera Company in 1989. Under Tashi Dhondup's leadership as Artistic Director, Chaksampa has performed all over the world often by invitation at prestigious venues such as the Smithsonian Folklife Festival in Washington DC and the Asian Art Museum in San Francisco.
The group has performed in all four of the Tibetan Freedom Concerts organized by the Milarepa Fund appearing with such artists as John Lee Hooker, Taj Mahal, Buddy Guy, Pearl Jam, Herbie Hancock, Tracy Chapman, the Beastie BoysU2 and others.
Techung's relationship with the Milarepa Fund included a position as Education Coodinator and Tibetan Community Liaison. One of Chaksampa's songs is included in the CD Tibetan Freedom Concert produced by Grand Royal and Capitol Records. Chaksampa made its debut at Carnegie Hall with Philip Glass, REM, Trey Anastasio, Sean Colvin and Patti Smith as part of New York Tibet House's annual Monlam festival concert.
In 2004 Techung opened for the Dalai Lama's public talk in Florida and in Costa Rica. In addition to being looked up to as one of the key keepers of traditional Tibetan musical traditions, Techung is also respected for the original solo and collaborative music he creates by drawing on both his own heritage and his familiarity with other world music traditions. He collaborated on his first solo album Yarlung: Tibetan Songs of Love and Freedom (1997) with composer and performer Miguel Frasconi, followed by Sky Treasure (2001) with Windham Hill jazz keyboardist Kit Walker.
His other solo albums were Chang Shae: Traditional Tibetan Drinking Songs Vol 1 and Nyingtop-Courage (2002). His song,Losar" was chosen as the 2003 best modern traditional Tibetan song at the first annual Tibetan Music Awards held in Dharamsala.
Techung's voice and music have been featured on the soundtracks of the IMAX film Everest, the feature film Windhorse, the documentary films Stranger in My Native Land, Tibet's Stolen Child, Thsewa: In the Freedom of Exile, and Three Days for Tibet (about a concert in Dharamsala with Joan Osborne Zakir Hussain and other musicians). His music was also featured on PSA's for the Milarepa Fund (promoting the 1999 Tibetan Freedom Concert) and Amnesty International (soliciting support for the human rights case of Ven. Palden Gyatso) as well as on an audio book by Diki Tsering titled "Dalai Lama My Son.
"My name is Techung (also known as Tashi D. Sharzur). I am a Tibetan singer-songwriter I currently live in San Francisco, California but am originally from Dharamsala a small town India.
I have been producing traditional and contemporary Tibetan music for the past fifteen years. Since I grew up in a culture that greatly values personal modesty and frowns upon any behavior that seems "self- interested" I did not actively promote my musical work during the early part of my career. However, after living in the United States I have come to realize that promotion of my music is an absolute necessity if I want to continue to grow both personally and professionally in my musical career."
About Techung, A Compilation of Tibetan Folk and Freedom Songs.
"Most of my music is focused on the nonviolent struggle for the freedom of Tibet which was brutally invaded and occupied by the Chinese Communist government in 1949. In addition, I compose romantic songs of lyrical and melodic simplicity primarily for my younger Tibetan audience. Through my music I strive to honor the musical tradition of my culture that has been threatened for the past fifty years.
My music also expresses my own frustration as a refugee who has been robbed of his land and his freedom but who continues to fight for his own dignity and for the dignity of his fellow Tibetans. I do this with a special emphasis on the fact that such fighting is achieved through non-violence and compassion which are integral aspects of traditional Tibetan culture."
Discography:
Songs from Tibet (ARC Music)
Lam La Che (ARC Music0
Sky Treasure (Hunga Records)
A Compilation of Tibetan Folk and Freedom Songs
Author:
Angel Romero
Angel Romero y Ruiz has been writing about world music music for many years. He founded the websites worldmusiccentral.org and musicasdelmundo.com. Angel is also co-founder of the Transglobal World Music Chart.
Angel has also produced and remastered world music studio albums and compilations for labels such as Alula Records, Ellipsis Arts, and Music of the World.