Part I APAP World
January 6-10 in New York City marked the Association of Performing Arts Presenters (APAP) 60th Anniversary celebration as the world's leading global performing arts gathering, marketplace, and members conference.  Over 45,000 performing arts professionals and enthusiasts come together to experience and participate in the city-wide conference event. 36 countries were represented among hundreds of international registrants.
They were over 1,500 city-wide showcases and full-length performances, public programs, keynote speakers and plenaries, a giant Expo Hall at the Hilton with close to 400 exhibitors, and professional development and networking opportunities, all representative of a vast and diverse industry, nationally and internationally.  It never ceases to amaze how many vibrant APAP-related events spring to life all over the city over a few days.
On a much graver note, the APAP conference coincided with the current period of precarious political uncertainty in America.  The incumbent administration's policies and actions in this country encourage and promote racial, ethnic, and religious bigotry, xenophobia, misogyny, isolationism and nationalism. To help counter those hatreds and fears, those proposed physical and metaphoric walls and borders, those denials of human rights, freedom of artistic expression will be a powerful, symbolic force in the coming years. Its survival is vital in the presenting communities here and abroad.  Also, at this pivotal moment and at no other time in recent history has the need for arts advocacy been more urgent, especially as proposed draconian budget cuts include the complete elimination of the National Endowment for the Arts (NEA) and the National Endowment for the Humanities (NEH).
APAP president and CEO Mario Garcia Durham is a reassuring presence in spite of all peril:
We are here to help our members navigate and 'FLOW through" the transition of governments locally, nationally and internationally by offering support and tips for educating and briefing new officials about the importance the performing arts play in every community and in society as a whole.  We'll do what we always do, while also looking for more opportunities to bring additional audiences and artists into the performing arts, providing a platform for performing arts professionals to engage in discussions and solutions around pressing current issues such as cultural conflict, social justice and overcoming the challenges of equity, access and inclusion.  Art organizations are leading in a time politically that requires a continual flow of thoughtfulness, planning and action to ensure creativity, relevance and sustainability."
For the internationalist, world-oriented mind, APAP has inspired, supported, and promoted at least 3 key annual events for more than a decade.  Wavelengths – the APAP World Music Preconference session, and two showcase festivals, globalFEST and Winter Jazzfest.  The values mutually inherent in the 3 events uphold diversity, inclusiveness, and respect for global cultural ecologies.  They are the antithesis of political developments in Washington today.
Wavelengths
For the past several years Dmitri Vietze, the founder and CEO of the public relations firm Rock Paper Scissors, has produced the APAP World Music Preconference, the largest gathering of world music professionals in the U.S.  This is the second year the firm organized this "mini-conference" together with globalFEST, under the newly branded title Wavelengths. Tristra Yeager with Rock Paper Scissors and Nicole Merritt Chari with globalFEST are the co-organizers.  Creative entrepreneurship thrives here.
All the latest developments in the music industry affecting the world music field can be heard about and delved into here through panel discussions and topical focus.  Industry leaders, thinkers, record producers, presenters, agents, managers, artists, all throng to this free 2 day public event.  Wavelengths is always populated with seasoned pros who excel in entrepreneurial knowledge and who have helped shape better understanding of the rapidly shifting forces in the music industry.  Technology and monetization of cultural expressions are given frequent focus.
The pace of the preconference was measured, the spirit upbeat.  Among this year's topics were: Breaking Into/Navigating the U.S. Market, Global Music Trends, What Works in Live Performance Videos, Sustaining the World's Music Traditions, Strengthening Our Global Music Ecosystem, and Global Market Spotlight on India, Mexico, and Morocco.
Meklit Hadero, Ethiopian-American singer, composer, cultural activist, and Ted Fellow delivered the rousing and timely keynote talk: "Re-thinking the We: World Music, Cultural Activism, and Global Citizenship in 2017".  Fiercely optimistic, Hadero draws her sustenance from her rich, "hyphenated" identity.  She noted that 2042 signifies a year of predominant racial mixes in this country's population.  "2042 is the year America becomes a majority minority," she affirmed.
She sees the American story as a global story, an immigrant story of interdependent identity, and the theme of her new upcoming cd.  "Out of many, we are one, we are responsible for all as cultural activists."  Meklit's talk rings loud and clear in opposition to Washington's current supremacist, divisive fears.
One of the most important aspects of Wavelengths is the networking opportunity for world music professionals and artists. It's the time to catch up with colleagues from all parts of North America and beyond.  Communities come together in solidarity.  In Part II meet 5 Wavelengths attendees from different regions in the U.S. who share their APAP impressions for this year:  Tristra Yeager (Indiana), Ismael Ahmed (Michigan), Mark de Clive-Lowe (Los Angeles), Birane Sarr (New York), and Diana Ezerins (Washington): "Wavelengths Voices of Courage, Hope, Resilience."
globalFEST
For its 14th season, globalFEST delivered another fascinating showcase of the world's sounds, from celebratory traditional styles to sophisticated abstractions.  The producers' challenge is formidable: to represent contrasts in genres and geographies, always mindful of quality.
While it's always been a struggle to navigate official restrictions and policies concerning international artists' visas – now with even more hurdles and challenges on the horizon in the U.S. – globalFEST manages to introduce global crowd-pleasers for diverse tastes and venues – for stadiums and festivals to more intimate performing arts spaces.  12 overlapping acts on 3 stage floors at Webster Hall over 5 hours in one evening.  It was high-spirited, exhausting fun ending on the stroke of midnight, only to be followed by the Joe's Pub globalFEST afterparty with a live performance by Red Baraat.
Among the many, there were two contrasts in styles bridging the traditional and the modern.  On the more traditional side, Cuba's classic Septeto Santiaguero and the Afro-Venezuelan singer Betsayda y La Parranda El Clavo from the Americas along with the Congo's Afrisa International were strong examples of what American audiences love.  Septeto Santiaguero, winner of the 2015 Latin Grammy for Best Traditional Tropical Album, honed its mighty "sabroso" sound at Santiago de Cuba's famous nightclub Casa de la Trova. The Webster Hall ballroom floor was an ocean of happy, swinging dancers as this crisp, tightly rehearsed band rolled forth its son-montuno repertoire with syncopated call and response phrasings with vocals, brilliant horns, guitars, and peppery percussion.
Betsayda y La Parranda El Clavo jammed the middle Marlin Room with an opening procession of singers and drummers winding through the packed crowds.  No Western instrumentation, just voices, hand drums and percussive textures were fulsome enough musical accompaniment for this joyous group.  Led by Betsayda Machado with her commanding vocals, the group's infectious stage presence caught up all in the wild frenzy of a Afro-Latin village celebration of dance and song.  Some of the rhythms seemed imbued with syncretic spiritual ritual.  Betsayda's African root rhythms syncopated with Latin beats elevate her music to levels worthy of Alan Lomax.
Although there were hopes to see Mbilia Bel, the superb, beautiful Congolese singer from the 80s and 90s and "Queen of African Rumba" with one of Congo's greatest bands, L'Orchestre Afrisa International founded by Tabu Ley Rochereau in 1970, she didn't manage to make the gig.  However, the group went beyond expectations and held its own with gloriously seductive, sinuous soukous rhythms.  With the enduring marvel Nseka Huit-Kilos on sparkling lead guitar, Miz Blandine, singer and dancer, carried on her idol Mbilia Bel's tradition, backing the band with veteran Afrisa singers, Dodo Munoko and Wawali Bonane. Afrisa International proved to be more than a revival with its vibrant freshness.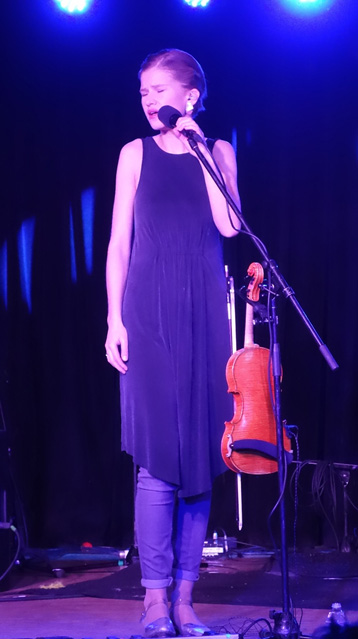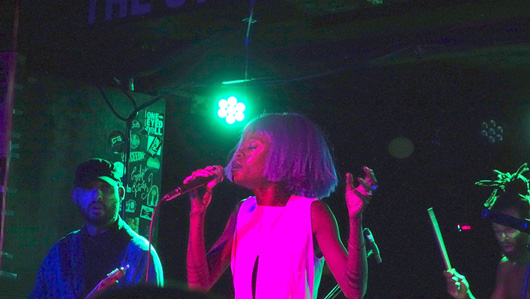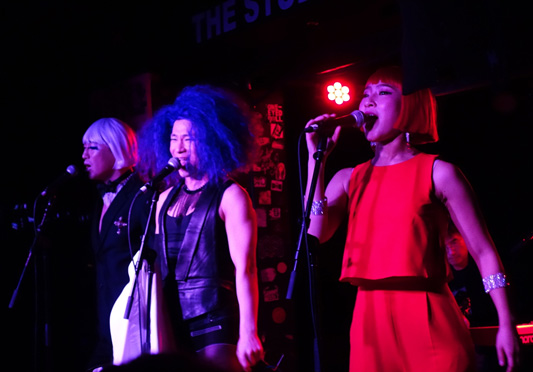 There were three intriguing globalFEST 2017 standouts that I like to think of as "modernists."  Estonia's Maarja Nuut, Ghana's Jojo Abot, and Korea's Ssing Ssing, spanning three continents amazingly enough.  They create and shape unusual resonances with older form references.
Cerebral tunings and cyclical modular harmonies based on old village tunes filled Maarja Nuut's performance.  The fiddler singer seemed to make soundscapes for suspenseful fairytales or village jigs in a far off forest land.  Pedal loops and electronica expanded, abstracted, and layered the larger haunting sound.  Hers was the intimacy of an art gallery experience with barest hints of symphonic elegance à la Philip Glass.
Jojo Abot is a sleek performance artist with Fela on her mind.  She wore a silver lavender wig and a long white minimalist gown with silver face paint.  She had the persona of a futuristic African cult goddess.  Her stage was filled with red balloon props. Electronic echoes with reggae dub vibes gave her sung and spoken word toasting style an otherworldly spacey dimension as she hopped off the Studio Room stage to mingle with the crowds. Her lyrics and feral presence hail self-empowerment.  Her band is impressive, sometimes with a slow West African highlife feel.
Ssing Ssing was a layered surprise musically and visually.  There is the immediate spoof-like look of the band.  Wearing American flag colored wigs, red, white and blue, two of the sassy lead singers were in drag while the third, a woman.  Wearing flashy costumes, they rocked old romantic Korean folk tunes with high disco energies.  The gender twist has references to traditional shamanism, where the female and male transform into genderless, healing spirit.  The Studio Room was jumping.
Winter Jazzfest
Thanks again to APAP's abiding support, the city hosted another edition of the eagerly anticipated Winter Jazzfest (WJF). The producers literally take over the entire range of west to east village music venues, all within relative walking distance.  This year's 12 venues were a 'moveable feast' over six days with over 150 acts and 600 musicians.  For the first time in 13 years, the festival took on a theme: social justice.
"The 2017 NYC Winter Jazzfest explicitly supports social and racial justice by presenting socially engaged artists who have urgent and beautiful musical messages to share.  Directly addressing the sense of crisis confronting our nation, we stand firmly with #blacklivesmatter, the American Civil Liberties Union, and seek to address issues of discrimination, police brutality, abuse of power, xenophobia, sexual and gender discrimination, that are all threatening to become more deeply institutionalized in the coming administration.

Artists have always been at the heart of movement-building and social solidarity.  Protest and resistance are central to jazz's existence from its beginnings as the music of marginalized black Americans.  Jazz's vitality and effectiveness in voicing truths about life in America has not changed.  As wide-ranging as music can be in style, format and message, so is the manner in which it reflects the politics and social issues of today." – Winter Jazzfest Program Notes
Club-hopping during the WJF Marathon Friday and Saturday evenings is part of the sampling challenge, and the programming was exhaustive and… exhausting.  Straight-ahead jazz to experimental and international, there's incredible innovation taking place now on the downtown jazz scene.  What's consistently impressive each year is the number of younger musicians, international and local, programmed with well-established stars.
Out of many, here are some of the marathon showcases I liked.  Two emerging international artists and 4 masters.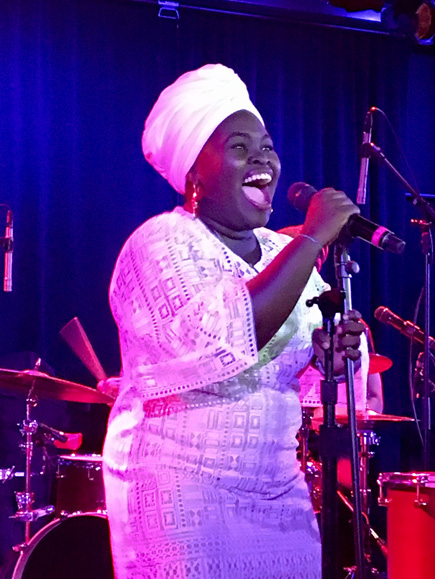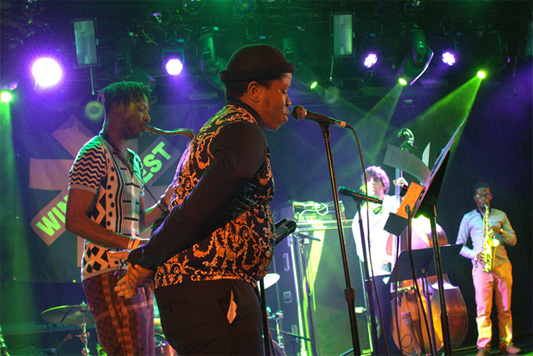 Cuba's Dayme Arocena is a gifted young singer with a bubbly personality and instant crowd appeal.  After seeing her happy Le Poisson Rouge showcase at WJF, I feel the same about her new recording Cubafonia.  I really enjoy her Afro-Cuban rumba and the deep spirituality in her Santeria songs where she excels.  When she dips into English lyrics with her forays into neo-soul, the rhythmic language disconnect from her natural strengths – Cuban Spanish or Yoruban rhythms – makes the music almost inaccessible.  Yet she represents all of the newer trends among younger Cuban musicians and shifts easily between jazz idioms, soul with light-hearted passion, and guaguancó dance rhythms.
Shabaka and the Ancestors is a collaboration between the Barbadian-British saxophonist, composer, and band leader, Shabaka Hutchings, and some of South Africa's exceptional jazz musicians.  Their recent album Wisdom of the Elders gained enough praise to warrant group touring.  There were strong open-ended stylistic synergies at Le Poisson Rouge between Shabaka's American references, Sun Ra, Pharoah Sanders, Coltrane, for example, along with his Afro-Caribbean identity – and Johannesburg's younger jazz players steeped in the country's long historical path of spiritual resistance against racial and class oppression.  "We need new hymns, we need new songs," intoned singer Siyabonga Mthembu. The group could not have debuted in New York at a more meaningful moment.  Their music reflected past struggles for social justice, omens perhaps for the present.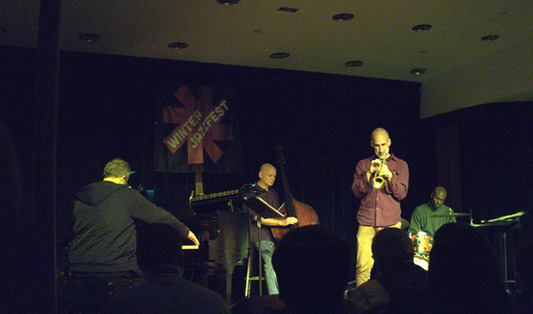 Winter Jazzfest is known increasingly for attracting jazz masters.  There are rare opportunities to catch their brief live performances without too much formality within a few days.
The last 25 minutes of pianist, composer, and arranger Uri Caine's hour long set at the New School was a treat.  Known for his contemporary reimaginings of classical composers through jazz improvisations, whether Mozart, Bach, Schumann or Mahler, Uri Caine is a dazzling piano phenomenon.  With back to audience in a quartet with trumpet, bass, and drums, his music revealed a merry soul.  He's riveting to watch play.  In the last song, Green Dolphin Street, Caine's muscular chromaticisms and spidery keyboard dexterity rivaled a complex Czerny piece with nods to the elegance of Duke Ellington swing.
The ECM Stage underscored its reputation as a venerable label.  This was ECM's second year as a label showcase presenter at the New School's wonderful Tishman Auditorium.  The music listening was so good I stayed for 3 hours,  I caught just the end of the set by Ravi Coltrane – sax and David Virelles – piano, an early intro to their upcoming album as a duo.  The last two songs I heard showed the flash and fire of their combined prowess.  Cascades of sound towards end of "Leo" mirrored the restless fervor of these two artists.  They finished with "Lush Life" by Billy Strayhorn to waves of applause.  ("In Movement" with Jack DeJohnette, Ravi Coltrane, and Matthew Garrison is up for a Grammy.  The version of "Alabama" is pretty extraordinary, as is the rest of the album.)
Guitarist Bill Frisell with Thomas Morgan on electric bass will also have a new ECM release soon.  The live experience of Bill Frisell was like a meeting with an eloquent friend who offered intimate glimpses into his world.  The luminous lyricism in his tonalities, the transparency of his emotions, are incomparable.  By the time the hall was ringing with an American repertoire including Fats Domino's "What a Party, "Mumbo Jumbo" by Paul Motian, and "Subconscious-Lee" by Lee Konitz, he settled into a long train of musical thought, Motian's "It should have happened a long time ago."  As I listened to the duo's gently modulated phrasings and octaval reflections, it occurred to me that Frisell truly "makes" music, he just doesn't play a song, such the sense of wonder he conveys.
The final showcase concert for the night seemed like one long mysterious song by the Swiss pianist, composer, and producer Nik Bärtsch. "Continuum" featured Bärtsch's acoustic group's most recent album Mobile.  The group is known by the same title name.  The recording and the performance are a study in contrapuntal modular pieces that allow the tightly locked quartet of players – bass and contrabass clarinet, two drummer-percussionists – to explore Bärtsch's piano phrasings and cues.  With metronomic precision, the performance built slow, trance-like ostinatos towards explosive polyrhythmic jazz funk intensities.  The element of performance art lay in shifts of lighting sequences throughout the overlapping cycles.  Darkness and chiaroscuro light and shadow dramatized finessed subtleties and suspensefulness in the calibrated passages.  The set lasted for about an hour.  Mobile is known to perform for 36 hours straight.
There is comfort and sanctuary in music and the performing arts, the power to celebrate and uphold the planet's diversities, the way to justice and beauty, the universal goodness of life.  It's worth fighting for.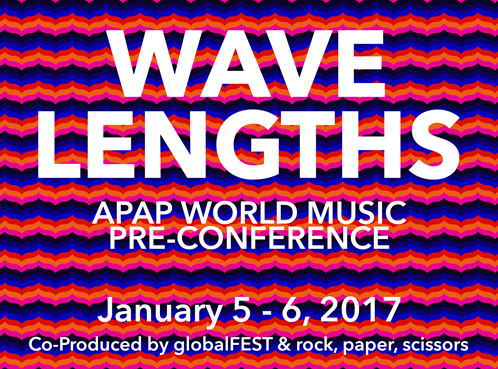 Part II
Wavelengths Interview Excerpts
Voices of Courage, Hope, Resilience
Tristra Yeager, Wavelengths: APAP World Music Pre-conference Co-Organizer and And Head Writer with Rock Paper Scissors
Wavelengths is a great way for artists and professionals new to the field to meet kindred spirits and potential allies. We try to create a little community within the larger madcap world of APAP. The conference has so much great stuff going on, it can feel overwhelming. So I like to think we provide a harbor for people looking to connect around global music, as well as a portal to the wider performing arts
My colleagues at globalFEST and I put our heads together and try to look critically at the issues that are affecting artists and the presenters who love them. We try to think of ways to do more than have abstract conversations, but also give concrete ideas and tools for people to consider. One of my dreams is for our community and all its stakeholders to come together and see how their interests align. It would be great to build capacity and find new sustainable ways to work together, for the good of all, fans, musicians, presenters and pros alike.
We like to bring in globalFEST artists with expertise in particular areas to speak to those skills and experiences. We also try to make sure what we do works toward globalFEST's mission of expanding and enriching international music opportunities in our market.
From the artist perspective, I see the objective is to make musicians' professional, business lives easier. It's hard to sort through all the possibilities or take advantage of all the platforms and ideas that *might* work. Moreover, there is so little advice that applies specifically to people making music "from elsewhere," people who may be combining traditions or genres or practices, people who have hybrid lives and thus hybrid work. The context and deeper meaning or message in this work is so important, and I think most of us agree about that. That said, it's not easy to figure out exactly how to harmonize message and business goals. I think it can be done, but it requires a lot of knowledge and reflection. I hope we help facilitate that.
From the presenter perspective, we want to make connections with new artists and forms, as well as hear their concerns and needs.  University performing arts centers, forward-thinking venues like Yerba Buena or the Cedar in Minneapolis, and the eclectic and world music festivals all have their own approaches, but there's a lot that's shared. We strive to provide a platform when those commonalities and struggles can be discussed openly and productively.
In short, we want a stronger ecosystem for global music. We want everyone to get to hear the world's music, to open people's minds to the world via their ears.
Ismael Ahmed, Board Member of The Arab American National Museum and Curator of Detroit's Concert of Colors
This is my 15th or 20th APAP conference and I even served a while back on the board.  I feel the conference continues to  become more and more diverse both in terms of the kinds of people and the ideas that people bring to the conference.  I really like the world music pre-conference and other kinds of things that go on.  Just the opportunity to meet with people I don't see every day but share many of the same ideas.  APAP is a great conference and it's also taking place at a pivotal time, especially given the promises of the Trump administration.  I am, like a lot of people, apprehensive as I watch the choices for cabinet ministers and advisors.   I really think the president-elect intends to do many of the things he talked about.  And many people say, "Well, why don't you just wait and see?"  I don't believe that's a wise way to conduct ourselves given the severity of many of the things.
I'm an Arab and a Muslim and, you know, he talked about creating a secret police for Arabs and Muslims. He talked about registering Muslims.  Those are really scary things and I think there are a series of ideas out there that I worry about.  What will the future of the arts be?  In this kind of administration?  But more importantly than the negative is the positive.
The arts have always played a pivotal role in building consciousness in this nation and in this world, and in our history.  So I look to many of the artists and activists that are here to be a part of whatever solutions, whatever resistance, whatever ideas, to move forward into the society.  We're probably meeting at one of the most pivotal times in American history, and it's enjoyable to me to walk around and talk to creative, intelligent people who share those concerns and want to figure out what that means.  What does that mean for their art?  What does that mean for their communities? What does that mean for their lives?
So in addition to being here for APAP I'm also here talking to different progressive groups and trying to bring them together around the country, to try and get us out of our silence.  Again the arts plays an important role here: it brings people out of their silence, it brings people together, and so I'm just enjoying talking to people and the facilitation that's taken place for us to be able to do that.
I'm also here as a presenter.  This is the 50th anniversary of the Detroit riots.  Or the Detroit Rebellion.  So our full festival will be about that.  The Concert of Colors in Detroit.  In addition most of the major arts organizations in the city will be collaborating with us for the festival so I'm trying to look at presentations that talk about the concerns of the day, that talk about the Civil Rights Movement, that talk about our future.  So it's been an interesting set of visits to agents and artists, and just the meetings we've had with that in mind as well.  Then there's just the beauty of being with so many creative, capable people.
On Resistance,  Artistic Expressions, Presenter's Responsibilities
I think resistance takes many, many forms, and certainly the resistance of ideas and creation as a key part of that.  Standing up to attempts to defund the arts which I probably expect will happen.  Standing up to the attempts to censor the arts.  Also encouraging others to use their art to inform, educate, and yes, resist whatever comes forward.
I don't underestimate the power of the arts to move people, to educate people.  And I think that it's usually underestimated.  There's a reason why tens of thousands of people will go to a stadium to listen to some music that may in fact have the same message as a politician.  There's real power in culture, especially progressive culture.  While it's certainly not a silver bullet, it's the important element of what has to happen in this world, whether it's this administration or any other.
Well, I think it will be varied [forthcoming artistic expressions}.  You know, it's always been varied, but artists  have always kind of lead the way in social movements.  As things become more difficult in the world, not just politically but in terms of many of the negative outcomes that we're looking at in the future, I thinks artists will stand up to that.  It's normal.  And they may stand up in very different ways.  Some of them will just create their own beauty.  And others will be much more direct.  Generally in periods like this, they tend to be more direct and certainly I encourage that.  As a presenter I try and book people who have something to say.
Presenters are responsible to the communities that they present in.  To put forward not only beauty but forward ideas.  I would not be a good presenter if I just chose to ignore all that goes on around me.  We all need to be conscious, whether as artists or human beings.  I want to present conscious art.
APAP should be a broad representation of the people across the country where ideas are shared.  One of the ideas APAP is built on is working toward diversity.  I think it believes it is an organization that champions the rights of people, people of color, and others – working people.  That's kind of at the lowest level and that's wonderful.  We shouldn't be asking them more than that.  They should decide what they want to do.
I've watched over the years, their selection of key artists, their selection of workshops, to give opportunity for all of us to grow in our relationships, our consciousness, our work together.  That's the positive thing, something that's needed.  Where you go from there depends on your commitment to your communities.
The one thing APAP doesn't do well still, is assure that artists and presenters and agencies think about what their responsibility is to their communities.  And that's a hard thing to do because you don't want to question the freedom of all those people.  But we are responsible for each other, for our communities, and for the world.  And I think we could do better as far as education about that.  Artists too have responsibilities. I know some people think, "do what you do" and "that's that" as long as you're creative, but from my point of view, we're responsible to all those around us, we live in a living world and so we have to respond to that.
Mark de Clive-Lowe, Pianist, Composer, Producer and Electronic Artist
Main website:  MdCL.tv
This year was my first time at APAP.  I attended the Wavelengths pre-conference days and globaFEST but not the full conference – but it was plenty to give me insight into the community and ideas behind the conference as well as plenty of inspiration to take away.  Wavelengths was a continuous stream of insightful conversations and panels.  Most of all though, the opportunity to meet and idea share with open minded creatives was truly special. Coming from the jazz and electronic worlds, the open mindedness and community spirit in everyone I met was enlightening – no pretense and none of the elitism that mars other more homogenous music genres.
I've been surrounded by world music in one form or another for a long time but often it was as a flavor added to a setting where jazz was still the main focus.  Over the Wavelengths two days though, so many ideas came to mind for me with realizations of how i can contribute my musical voice to this community and contribute to the seemingly open-ended exploration of our planet's music and creative cultures.
As a Japanese-New Zealander and having resided at length on four different continents, I've sometimes been at a loss as to how to share my own story through my music – now there's fresh ideas for that, thanks in large to the many conversations and interactions over those days. globalFEST was a great way to wrap up the weekend – seeing a lot of the ideas we talked about in action on the Webster Hall stages.  By far the most impactful for me was Betsayda Machado y La Parranda El Clavo.  With nothing more than drums and voices, the band had us all spellbound and transported us deep into their history, culture and story.  Inspiring stuff to say the least!
Birane Sarr, President, New African Production, APAP 2017 Exhibitor New African Production
Thanks to APAP, now a lot of people are coming to know New African Production.  I've been in the African music business since 2000 and am based in New Jersey. Over the years we've done a lot of shows here in New York with Joe's Pub, SOB's, and others in Manhattan and Harlem.  For the past 3 years we've been an APAP exhibitor working to expose the African artists I work with. I feel APAP is the best way to promote and market our New Generation African Collective to world music presenters.  For the past couple of years we've been touring the young Senegalese New Generation Collective here in the U.S. and Europe – like Pape Diouf and Aida Samb.  Last year we brought Pape Diouf to 16 stages, including those within the Senegalese local communities.  During APAP we aim to expose the Senegalese culture and help the artists to develop their career in the world music arena.
To create your business in this country, it's better to take things step by step and build your credibility through an APAP presence. I have learned that it is very important to start here.  Every year for the past 3 years we've been promoting what we have, doing the shopping and marketing, and contacting the presenters.  We know it takes time, but we're on our way. The rest, we leave it to God.
What I see here with the presenters is a preference for the old school, not discovery of the younger generation. The new generation, unlike their elders, have studied and learned the music at the conservatory in Senegal.  They're great musicians, but people are always asking me about Koffi Olomide, Baaba Maal, Youssou N'Dour, who have long been established in the markets here.   However, when we brought Pape Diouf last year, all the concerts were sold out.  At any festival we did from Madison, Wisconsin to Schenectady, Chicago, Atlanta, we gained thousands of new fans.
APAP is vital if you want to be in this business and you want to be part of world music.  Here meeting new presenters in person is important.  Because sometimes if you send out email they're not going to open your email.  But when you exhibit here, people are going to know who you are.  Our goal is long-term relations.  We know we have the best young talent and we want to take it step by step to get what we want tomorrow.  It's very important for New African Production to be present here every year, as well as at WOMEX, for example.
When I started here, I understood why other African promoters didn't participate in APAP.  They only give focus to their own local communities as their markets, mainly because 65 % of artists they bring here are not known to the larger world music fan base.  Our market goals are much larger, diversified, and broader.  We aim to build careers for our artists.  Making money is not the priority.  We love to share our music, our culture.   When we built this company 16 years ago, our main goal was to create cultural exchange, learn a lot, expose the best of the younger generation, and this has not changed.
A lot of people don't know what's going on in African culture. They don't take advantage of a Google check to see what's out there, who's there after Youssou N'Dour and others.  Who's Pape Diouf?  How long has he been in the market? Who's Wally Seck?  Aida Samb?  65% of the younger generation born in 80s studied music, they can play any instrument.  They read music, yet understand their own notations, tunings.  Many musicians before them couldn't read music, but if you give this younger generation any score, they can play it.  Ask young Senegalese such as Alioune Wade to play with Marcus Miller, they can do it.
The investment decision to exhibit at APAP is mine, it's my own money.  I never have any help from the Senegalese government.  As a patriot, all I wish to do is to help the careers of young musicians because I love the music.  Yes, the business is gradually coming in now.  When we bring the artists to the U.S., we always take care of their accommodation, sometimes in my own house, and their transportation.  Fortunately at the outset, artists are not focused on money.  They're looking at their career and are willing to make the sacrifice to break through.
I haven't totally mastered APAP, but step by step, I'll get there.  It takes time as the only African exhibitor at APAP who exposes young talent, relatively unknown in these markets.  That's very tough.  When you have a big name, everyone knows the artist, but when you have young talent, you have to work much harder.  Presenters have to trust your taste, your judgment. They come to love our artists, they buy, they try, and the next year they're going to call you again.
One thing I feel APAP could do better is their orientation for new exhibitors, such as usage of their database.  When I first came no one helped me.  Based in NYC for 20 years and sixteen years focused on this business, I have come to know a lot of people. I attended APAP for 7 years as a visitor earlier on, just to check it out.  I've had three artists at globalFEST – Fallou Dieng, Meta and the Cornerstones, and Yoro N'Diaye, long before my exhibition booth here.  It's been easier for me because I came to study and learn for 7 years.  Now it's been 10 years that I've been coming to APAP.  After the 2nd year, I understood the process a lot more.  Set-up, logging in to APAP and downloading the list of people you want to work with and meet.
I've been very happy to be here for the past 3 years. It's a learning process and it's very tough.  I hope for next year, a lot of young African promoters will see what I'm doing and become inspired, use me as a role model.  I'm not building my name, I'm building my company, New African Production.  Our main focus is not on the money, but on what we love, to help the artists build their careers and share our culture.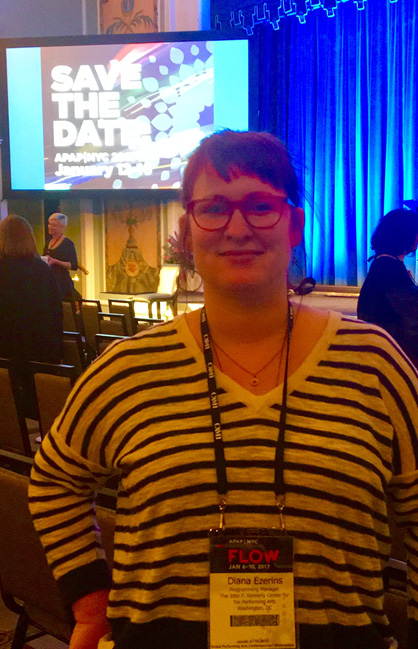 Diana Ezerins
Programming Manager
Millennium Stage / Performing Arts for Everyone / Community Engagement
I curate the programming for the Kennedy Center's Millennium Stage, a daily, free performance series. We host an audience averaging 350 people a night, and serve an online audience via simulcast on our website, Facebook live, and YouTube. Twenty years ago, the series was created to make the arts as accessible as possible without financial or geographical barriers. It has evolved into a space to feature regional, national, and international talent and represent the breadth and depth of culture in society.
We strive to democratize our programming practice by identifying collaborators of varying types – artists, activists, educators, youth, embassies, organizations, other presenters, etc. – in a co-curation process that allows for wildly more input from more voices, and results in an expanding audience more representative of society as a whole.
Communities of practice are able to self select and address the needs and desires of their audience. I often think of myself as a Park Ranger with the goal of ensuring the Kennedy Center showcases all artistic styles and assists in fostering multicultural understanding in a space that allows audiences to learn, and a multitude of art forms to be celebrated on a national platform.
APAP to me
The Arts Professionals* Conference has always been an exciting and important start to the year.  Gathering with our colleagues to bond over music and discuss the challenges and successes of the previous twelve months is crucial to our collective evolution as a field, and as a nation. It is also a great joy.
I am not sure how long APAP has utilized a team to curate the panels, discussions, and presentations for the conference. I can say that this year, I noticed their efforts to embrace the vibrant community in the process, and I was grateful to the team for what they created.
The first event I attended was part of the Globalfest + Rock Paper Scissors Wavelengths sessions, a lecture by Meklit Hadero. Her presentation, Hope and Cultural Activism, set the stage for the rest of the weekend, as well as the role of our field as we advance into the future. Themes centered around global citizenship, embracing the entirety of our American identity, and the grandeur of the truly universally encompassing and dynamic "WE". She concluded her talk with a bow of positivity highlighting wins and successes over the last year, such as the people gathering together to challenge the course of the Dakota Pipeline.
During another panel, our leaders borrowed from methods of the tech world to have the themes of the discussion informed by those in the room. We were all encouraged to write down a topic of interest on a post-it, present it to the group as a whole, and the eight conversation topics that garnered the most traction would be explored in the four corners of the room in two, thirty-minute mini-sessions.
I love group activities and participatory input to determine the collective outcome. Panels often get bogged down by having too many speakers using a big chunk of time for introductions to their backgrounds, then to the topic, resulting in a beginning level session that runs over before the conversations achieve any depth. This method was a great way to address the mixed needs in a room of music presenters and artists, and allow this group of 100+ experts in their own right the opportunity to participate. (Have you picked up on my theme, yet?)
A topic weighing heavily on my mind since the election has been how we in the arts sector can contribute to the challenges facing our country. Like wolves, humans are pack animals by nature, and we are drawn to those with shared values out of our need for survival. We leave our city for a short respite in the country, or on our way to a gig in another highly populated town, and we are reminded of the differences between ours and the world between cities (and vice versa).
As the group presented their topics, a girl before me in line announced her interest: "Breaking Out of the Bubble." Egad, those were the very same words I wrote down on my post-it, and the same that had been shared over and over by the media in the weeks following the election. Of course, everyone is thinking about this very same thing! I approached the microphone and excitedly declared that I, too, am eager to discuss how we can break out of the bubble.
Common words do not equal a common language. My mistake was twofold – a lack of clarity coupled with my egocentric assumption. A lot of those who gathered in my circle came to explore my version of the bubble. The girl wanted to discuss networking, and how an artist can reach new people to book her band. We all ended up helping her to the best of our ability, and we did not discuss the role of the arts in society or how we can create opportunities to deepen appreciation and understanding in a country of polarized people. Mistakes made, but lesson learned – one must use a great deal of care when selecting words.
How can our sentences be crafted to optimize clarity in pursuit of our desired result? We can fight over the existence of climate change, or focus conversation on the need for environmental preservation, or the impact pollution has on our health, etc. If assumptions must be made, it is in our better interest to assume good intent and seek opportunities for teaching/learning instead of winning/losing. Don't forget there are corporations profiting over pitting sides against each other.
While the daytime sessions and conversations are great, my favorite part of APAP is always nighttime. Ever since I was in elementary school clinging to my brown fischer price radio on weekend mornings listening to Casey Kasem, music has always been my breath and heartbeat, and my desire to hear something new and different is unquenchable. Additionally, I love an adventure.
As such, Winter Jazzfest and Globalfest are both heaven for me. With each, I get to wander, explore, and discover. It's like traveling through a musical Wonkavator time machine – we visit the past, present, and future in all corners of the globe, and reflect on society as we experience this world of sound. Best of all, I get to share those discoveries with audiences in D.C. at the nation's performing arts center. I am so grateful to my colleagues who organize those events.
I was also on a personal quest during this year's APAP, and it relates to my own, individual bubble. Our field is becoming more accepting of the notion that there are many experts, and that none of us can really be the knower of all. Curation by one has been the standard approach. The approach of my department within the Kennedy Center is different. Ours is a curation by we. It can be sloppy, and take longer than an individual making all the decisions. I also tend to exist primarily within the APAP music circuit. On the train to New York, I thought this over, and told myself to focus this year on expanding my reach.
Another panel I attended was called, Disrupting the Flow: Leadership and Creativity. One of the first sentences uttered during the panel was something like, "who suffers from disruption and innovation? We/artists are rabid disruptors." I was in the right place. This panel also included a breakout session for deeper discussion, led by some of this year's APAP fellows. I followed the fellow who seemed to have a calmest, wisest demeanor, who turned out to be Tiffany Rea-Fisher. She led a difficult and therapeutic conversation centered around the struggles of those in the room. Funding, our collective necessary evil, was a big topic. Afterwards, Tiffany was kind enough to spare a few extra minutes for a chat about the fellowship and all she has gained through the experience.
In the final event, Taylor Mac's closing statement to us all, he implored us to cultivate and encourage participation, embrace calamity, and delight in the possibilities. He dared us to defy vulnerability and fear, and begged the presenting world to stop suffocating the work of minorities by stuffing it into the black box.
It is no secret that our country is divided, and it didn't start with the election. We need to participate in difficult conversations, and be brave enough to do so with people who do not agree with us. We as arts leaders need to recognize our role (and privilege) in this process.
Throughout the conference, I was happy to see dialogue that centered around active participation, explored presenting arts and culture in a pluralist yet inclusive country, and celebrating that variance is normal. I hope many walked away eager and inspired to continue these conversations in their own communities at their own organizations, or at the very least, to present artists that reflect the vibrancy of our world.