The original members of The Klezmatics, Alicia Svigals (violin), Dave Lindsay (bass) and Rob Chavez (clarinet) met after reading an ad in the Village Voice in 1985. Shortly after, Frank London (trumpet), of the Klezmer Conservatory Band, joined the group. Other musicians joined the band a few weeks later: Margot Leverett (clarinet), David Licht (drums) and Lorin Sklamberg (vocals, accordion)
In 1988, The Klezmatics were primarily playing clubs and parties in New York. Through the influence of Ben Mandelson of 3 Mustaphas 3, they were invited to play at the first annual Heimatklange Festival in Berlin, a proto-world music gathering held just as world music was emerging in the global consciousness. The Klezmatics played every night. At the end of the week, the festival's organizers, who had recently formed a label called Piranha, offered them a record contract. An album, Shvaygn = Toyt (Piranha/Rounder, 1988), Yiddish for Silence = Death, was recorded live, at Radio Free Berlin (SFB). Just like that, the Klezmatics had a record company, and a future.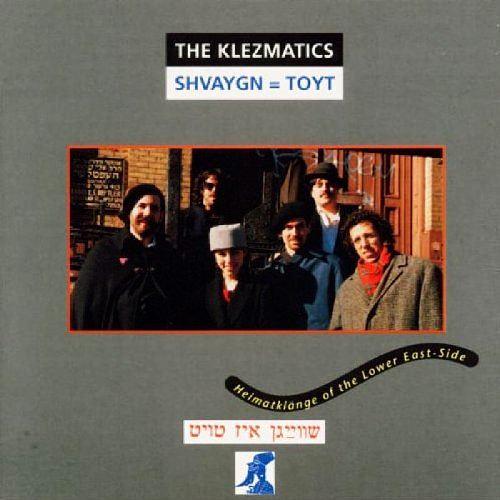 Musically, the band hadn't quite found their identity. They did, however, tap sources no other Klezmer act had thought to emulate: the small American Klezmer bands of the 1930s and 1940s. They were also beginning to formulate their guiding thematic approach to music and life-seamlessly melding cultural statement (that Yiddish must be spoken, or else disappear) with historical politics (the ardent socialist anthems of their forebears) and modern activism, particularly a joyous affirmation of human rights.
Piranha's director, Christoph Borkowsky Akbar, encouraged the band to take their time recording their second album. Borkowsky wanted the Klezmatics to find their own path and organically blend their many influences. Klezmer was the lifeblood, but the band also mined the multi-ethnic and cultural influences of New York. Mixing together Jewish drinking songs, socialism and Jewish mysticism, as well as punk, jazz and classical attitudes seemed strangely natural, as did maintaining their reputation as an ecstatic party band. This extended recording period allowed the Klezmatics to forge their own unique musical identity.
By the time they'd finished their follow-up, in 1990, the band was ready to break away from anything resembling predictability. They stated their intentions in the album's title, Rhythm & Jews (Piranha/Rounder, 1990). Jewish music had always been thought of purely as melody; the Klezmatics felt the true backbone was rhythm, challenging the supremacy of sobbing clarinets, violins and voices. This was also the first time "Jew" appeared on the cover of a Klezmer album. By using the word, the band was boldly asserting their own brand of cultural pride: Jew Positive, a non-exclusionary belief that to find common ground with other traditions, they first had to unabashedly embrace their own.
Rhythm + Jews thrived on energy. The band brought in non-klezmer musicians like the Nubian percussionist Mahmoud Fadl, taking their source material to wildly divergent destinations. They played Eastern European melodies over Arabic and African rhythms; introduced their trademark multi-part group vocal sound (a tribute to British folk-rock pioneers Steeleye Span); and incorporated classical music's bass clarinet into their already multitudinous palate of sounds. They also began testing the waters of writing their own music with a whirling, homoerotic interpretation of the love poetry of King David. In a pattern that would perpetually repeat itself, the Klezmatics showed that, while they would always view the world through the lens of Eastern European Jewish identity, they would not be fetishistic about it.
The Klezmatics' next album, Jews With Horns (Piranha/Rounder, 1995) included the breakneck, pun-fueled Man in a Hat (the band's first song in English), a Hasidic-style wordless chant and a stark, minimalist treatment of 20th century Yiddish poetry. Musical guests included electric guitarist Marc Ribot (Tom Waits, Elvis Costello, The Lounge Lizards), Canadian political folkies Moxy Frevous and New York theatrical girl rock band Betty
In 1994 the Klezmatics pulled out of the archives a century-old socialist anthem called "In kamf" (In Struggle) for the soundtrack of the AIDS epidemic documentary Fast Trip Long Drop (Sundance Grand Jury Prize nominee), about a gay Jewish man's struggle with the disease. They put in a modern arrangement, while strengthening the link to the composition's roots with a chorus of native Yiddish-speaking seniors, who had sung the song in their own politically active youth.
In 1995, Pulitzer Prize-winning author Tony Kushner (Angels in America) furthered the Klezmatics' collaborations when he asked the band to write the score for his adaptation of S. Ansky's The Dybbuk, the classic Yiddish folk drama of ghostly possession. Those compositions formed the bulk of the next album, Possessed (Piranha/Rounder, 1997). Kushner also wrote the Possessed CD liner notes. The band was joined on the CD by John Medeski of Medeski, Martin and Wood, among others.
The Klezmatics next had the honor of working with acclaimed violinist Itzhak Perlman, who requested that The Klezmatics join him and three other Klezmer bands to record an album called In The Fiddler's House (Angel/EMI, 1995). This album and ensuing tour dramatically raised the awareness of Klezmer music in the United States. As the ultimate compliment, Perlman selected six original Klezmatics compositions for inclusion on the CDs and live concerts.
The Klezmatics then paired with popular Israeli singer Chava Alberstein. Alberstein brought the band fifteen Yiddish poems set to music. The band then created striking arrangements to frame the voices of Alberstein and Sklamberg.
The resulting album, The Well (Rounder, 1998), was produced by K.D. lang collaborator Ben Mink, who also played on the recording. It remains one of the band's favorites, not just for the music, but for the opportunity to help an artist they admire achieve a personal triumph. The Well is one of the band's (and Ms. Alberstein's) most popular and beloved recordings and received rave international reviews.
Their next album, Rise Up! Shteyt Oyf! (Rounder, 2002), was their first non-collaborative album in years. The album also featured a new permanent member, violinist Lisa Gutkin.
The tone of the record harkened back to Jews With Horns, with politics, religion, ecstasy and partying each vying for space, often within the same song. Some of the songs on Rise Up! had originally been commissioned for the band'?s collaboration with the innovative American dance company Pilobolus Dance Theatre.
The band's intention at this point was to push forward with their own music, but another chance meeting would redefine their immediate future. A few years prior, after playing a concert with Perlman, they were introduced to Nora Guthrie-known to most of the world as Woody's daughter and Arlo's sister. The band, however, recognized her as the granddaughter of Aliza Greenblatt, an influential Yiddish poet who had lived in Coney Island and the mother of Guthrie's Jewish wife. At the time, Guthrie didn't recognize the importance of her grandmother to appreciators of the Yiddish language and culture. She did, however, know that her father had written a collection of Jewish songs, which she invited the band to record in much the same manner as the Billy Bragg and Wilco collections (Mermaid Avenue I & II).
Beginning in 2003, the band performed the music in a series of concerts, including a Thanksgiving celebration at Carnegie Hall, under the title "Holy Ground". They also self-produced eight of Woody's Hanuka songs, which resulted in an album called Woody Guthrie's Happy Joyous Hanuka. An album of Guthrie-penned Jewish Brooklyn Americana is planned for the near future.
In 2004, Piranha invited the Klezmatics back to the Heimatklange festival, a double invite rarely extended to performers. The show's theme that year was New York, a theme fittingly embodied by the band. At Heimatklange, the band performed with jazz vocalist/organist Kathryn Farmer, as well as Joshua Nelson, an African American Jew practitioner of Kosher Gospel who was brought up on gospel icon and collaborative superstar Mahalia Jackson. They performed a series of shows, one night of which resulted in their first live audience album, Brother Moses Smote the Water (Harmonia Mundi, 2004), featuring contributions by Nelson and Farmer.
The Klezmatic's Brother Moses connected to every side of Klezmatics philosophy. It was a Jewish offering, half of the songs concerned Passover. It also included two audience favorites: the socialist anthem "Ale brider" ("All United") and 'Shnirele, perele', a Hasidic ode to the eternal Jewish yearning for the coming of the messianic era.
The 2006 line-up included Lorin Sklamberg – vocalist / accordionist; Frank London – trumpet; Matt Darriau – multi-instrumentalist; Lisa Gutkin – fiddle; Paul Morrisett – bass / tsimbl; and David Licht – drums.
In 2016, the band released Apikorsim/Heretics (World Village). Co-founder Frank London said the idea was "to make a great recording of Yiddish and klezmer music, as only the Klezmatics can." Sklamberg added, "It continues in the tradition that we last visited with Rise Up! Shteyt Oyf! in 2003. It's a great collection of songs and instrumentals that could only have come from us. It is also unique in our history in that everything you hear on the recording is played or sung by members of the band. It's our 'roots record', a return to the anarchic nature of some of our earlier music."
The lineup in 2016 included Richie Barshay on percussion and vocals; Matt Darriau on alto sax, clarinet, vocals; Lisa Gutkin on violin and vocals; Frank London on trumpet, horn, vocals; Paul Morrissett on bass, tsimbl, vocals; and Lorin Sklamberg on lead vocals, accordion, guitar, piano.
Discography
Shvaygn = toyt (Piranha, 1989)
Rhythm and Jews (Piranha, 1990)
Jews with Horns (Flying Fish, 1995)
Possessed (Xenophile, 1997)
The Well: Klezmatics with Chava Alberstein (Xenophile, 1998)
Rise Up! Shteyt Oyf! (Rounder, 2002)
Brother Moses Smote the Water, with Joshua Nelson & Kathryn Farmer (Piranha, 2004)
Wonder Wheel (JMG, 2006)
Woody Guthrie's Happy Joyous Hanukkah (JMG, 2006)
Tuml = Lebn: The Best of the First 20 Years (Piranha, 2008)
Live at Town Hall (Klezmatics Disc, 2011)
Apikorsim (World Village, 2016)
Author:
Angel Romero
Angel Romero y Ruiz has been writing about world music and progressive music for many years. He founded the websites worldmusiccentral.org and musicasdelmundo.com. Angel produced several specials for Metropolis (TVE) and co-produced "Musica NA", a music show for Televisión Española (TVE) in Spain that featured an eclectic mix of world music, fusion, electronica, new age and contemporary classical music. Angel also produced and remastered world music and electronic music albums, compilations and boxed sets for Alula Records, Ellipsis Arts, Music of the World, Lektronic Soundscapes, and Mindchild Records. Angel is currently based in Durham, North Carolina.