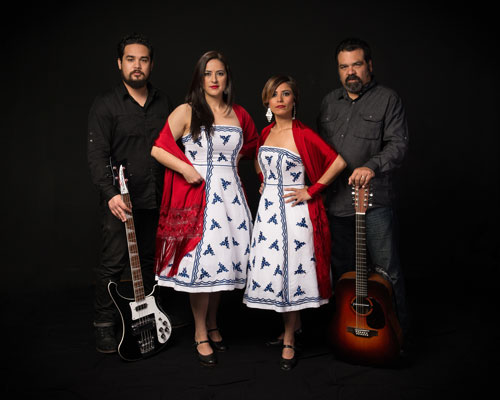 Los Cenzontles, a Mexican-American group dedicated to creating new music as well as preserving Mexican musical traditions, has a new album titled Alma Campirana. On this recording, the focus is on songs transmitted by family members using a format of delightful vocals and traditional string instruments. The lineup on this recording includes Lucina Rodriguez and Fabiola Trujillo on vocals accompanied by Eugene Rodriguez and Emiliano Rodriguez
Los Cenzontles is not just a band, it's a non profit cultural institution that includes a music academy, a community center for youth and families that celebrates Mexican traditions, and a hub for Hispanic artists in the San Francisco Bay Area in northern California.
We asked the music ensemble some questions about their background and their new recording.

Angel Romero – Can you give our readers a brief history on how Los Cenzontles got started?
Los Cenzontles – Los Cenzontles started as an artist residency by founder Eugene Rodriguez. He recruited teens from Richmond/San Pablo, a working class neighborhood, to train and work to uncover Mexican roots music and connect those roots with other cultures – and create songs with meaning.
AR – What do you consider as the essential elements of your music?
LC- The essence of Los Cenzontles is connection to family and community through culture and music – big and small. Connecting with ourselves, our friends and families and with the world.
AR – Who can you cite as your main musical influences?
LC- Los Lobos have been very important to us. Many great Mexican singers such as Lola Beltran as well as great duets like Las Jiguerillas and others.
AR – Los Cenzontles have just released an album titled Alma Campirana. What's the concept behind this album?
LC- Alma Campirana was our effort to pay homage to the great music of Mexico's countryside – a legacy that is now more and more in the past – because that lifestyle is disappearing. So this album is a way to provoke memories for older people and encourage young people to discover its beauty and power.

AR – Where and how do you collect your traditional songs?
LC- The members of the group chose songs they loved and learned from family.
AR – You use traditional instruments such as the vihuela and guitarra de golpe. Where do you get these instruments?
LC- We buy traditional instruments from a variety of makers.
AR – Is there a favorite instrument maker you use?
LC- Not really.
AR – Los Cenzontles is based in northern California. How's the Mexican roots music scene there?
LC- There are people who play Mexican roots music in families – and there is a banda scene. However, Los Cenzontles has created its own academia – we have our own community that is our 'scene'.
AR – Are you teaching your songs and musical instruments to new generations?
LC- Yes, we have a cultural arts academy in San Pablo that is now over 25 years old. All of the core members of Los Cenzontles met and were trained there.
AR – All the lyrics are in Spanish and you need to understand Spanish to appreciate the beauty of the songs. Is there an effort to maintain Spanish as a second language in your community?
LC- Many of our community members are immigrants so Spanish is passed down within their homes. Some of our members do not speak Spanish. We celebrate culture with everyone.
AR – If you could gather any musicians or musical groups to collaborate with, whom would that be?
LC- We have collaborated with many musicians including folk musicians who are not known outside their communities. We have also worked with many famous musicians such as Linda Ronstadt, Tigres Del Norte, Saul Hernandez, Los Lobos, Ry Cooder, The Chieftains, Taj Mahal and many more. We hope to continue to collaborate with anyone who loves culture and expression.
AR – Do you have any upcoming projects to share with us?
LC- We will perform at the la Plaza de Cultura y Artes in Los Angeles this Saturday, October 24 from 6-10.
Discography
Con Su Permiso (Señores (1995)
You'll Come Flying (1997)
Amor (Paz y Sinceridad (1999)
Volando en los Cafetales (1999)
Hypnotizada (1999)
De Una Bonita (2000)
Cancionero (2000)
Cuatro Maestros (2001)
Media Vida (2002)
Plan de la Villa (2002)
El Pasajero (2003)
Pocas Palabras (2003)
Pasajero, A Journey of Time and Memory (2004)
El Chivo Traditional Mariachi Volume III (2004)
El Toro Viejo Traditional Mariachi Volume IV (2006)
Los Senn-sont-less (2007)
Songs of Wood and Steel (2008), with David Hidalgo of Los Lobos
American Horizon (2009), with Taj Mahal and David Hidalgo
San Patricio (2010), contributing three songs with The Chieftains and Ry Cooder
Raza de Oro (2010)
Flor de Canela – 10 Años de Dueto, compilation (2011)
Regeneration (2012)
Shades of Brown (2015)
Alma Campirana (2015)
Links:
Author:
Angel Romero
Angel Romero y Ruiz has been writing about world music music for many years. He founded the websites worldmusiccentral.org and musicasdelmundo.com. Angel is also co-founder of the Transglobal World Music Chart.
Angel has also produced and remastered world music studio albums and compilations for labels such as Alula Records, Ellipsis Arts, and Music of the World.