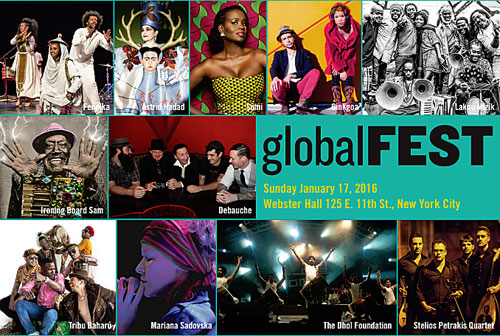 globalFEST, the most influential world music showcase in the United States, announced this week the names of the artists set to perform in 2016 at Webster Hall in New York City.
The annual event will take place on Sunday, January 17, 2016. The official lineup includes:
Astrid Hadad
Extravagant Mexican cabaret with soulful songs and outrageous visuals.
Debauche
Russian mafia ballads get a New Orleans punk makeover.
Fendika
Masterful dancer Melaku Belay leads Ethiopia's traditional music revival.
Ginkgoa
Vintage Paris chic meets New York cool in swinging electro-beats.
Ironing Board Sam
Rhinestone studded electric blues keyboardist and showman from the American South.
Lakou Mizik (NY Debut)
Powerhouse collective invigorating Haitian roots and grooves.
Mariana Sadovska
The defiant cry of Ukraine, reinventing traditional songs.
Stelios Petrakis Quartet
Inimitable virtuosos from Crete weaving melodies across the Greek islands.
The Dhol Foundation:
UK's leading South Asian bhangra crew.
Tribu Baharú (US Debut)
Champeta party from Colombia's Caribbean coast.
Somi
Lush Afrobeat inspired jazz, soul, and pop.
More information at globalfest.org
Editor's note: Simon Shaheen's Zafir will be replacing Ironing Board Sam, who cannot perform due to heath concerns.
Additionally, Music Maker Blues Revue has been added to the lineup.
Author:
World Music Central News Department
World music news from the editors at World Music Central