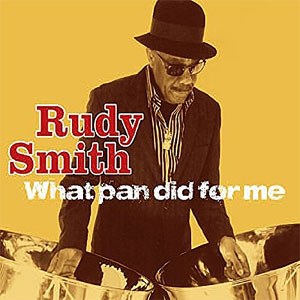 Rudy Smith
What Pan Did for Me (Caprice Records, 2015)
Steel pans. Evoke musical images of a slick band of dressed in brightly colored shirts playing sweet little island tunes? Well, let's dispel those images of tourist trap soundtracks or cruise ship elevator Muzak. What we're talking about here is a true master of the steel pan and steel band – Rudy Smith.
With no offense to all those hard-working island steel bands out there, Rudy "Twoleft" Smith's career goes beyond the ordinary pan man and dips into that of jazz musician, fusion musician, arranger, pan tuner and master pan maker. Apparently you can't hit the pan market in Denmark or Sweden and not run into a pan not made by Mr. Smith.
If you hit Denmark's Steelband Jamboree or the Nordic Steelband Festival in Stockholm, Mr. Smith is a revered figure. Fans will know him through such recordings as Time to Move On (2011) and Still Around by Smith, Rudy Quartet (2007) and Pan: Jazz Concert 1999. Now by the graces of Caprice Records, fans can get a rip-roaring retrospective of his career.
What Pan Did for Me is a deliciously hip listen into the music of Mr. Smith from his recording career start with the Merrymakers Steelband, through his work with the Modern Sound Quintet, the Lars Sjosten Quartet and his own Rudy Smith Quartet. And, let me mention that you really want to spring for the physical copy of this CD because you don't want to miss out on the photos or Mr. Smith's own recollections about his life in the music business and all the good stuff that happened while playing the clubs in Berlin, Casablanca, Torremolinos and Stockholm.
Opening with the 1956 track "Cavaquinho" from a Merrymakers Steelband recording, fans get that familiar island feel, but this quickly gives way to the jazzy swing of another Merrymakers track "Take the A Train."
By the time you hit the stunning "Otinku," the sultry strains of "Sugar Daddy" of the Modern Sound Quintet, the lure of the steel pan is too hard to resist. And it just gets better with tracks like the jazzy "Third Rail" with the Lars Sjosten Quartet, the sizzling Latin number "Sal Rabso" or the simply amazing "Pan in A Minor" with the Robert Monro & friends and Hot Pans Steelband.
There's also the flashy jazzy Bach number "Be Bach" with the Rudy Smith Quartet and the Copenhagen Steel Band and the lush "El Vito" with Swedish progressive group Samla Mammas Manna which comes across as a serious nod to flamenco fusion. The plushy jazz "Blues l'armoise" and the delightful "Happy's Story" with Birsdsong Steelband closes out this wonderful recording.
What Pan Did for Me leaves behind the steel pan stereotypical and steeps the pan in versatility and durability and proves the sheer mastery and musical vision of Rudy Smith.
Buy What Pan Did for Me in North America
Buy What Pan Did For Me in Europe
Author:
TJ Nelson
TJ Nelson is a regular CD reviewer and editor at World Music Central. She is also a fiction writer. Check out her latest book, Chasing Athena's Shadow.
Set in Pineboro, North Carolina, Chasing Athena's Shadow follows the adventures of Grace, an adult literacy teacher, as she seeks to solve a long forgotten family mystery. Her charmingly dysfunctional family is of little help in her quest. Along with her best friends, an attractive Mexican teacher and an amiable gay chef, Grace must find the one fading memory that holds the key to why Grace's great-grandmother, Athena, shot her husband on the courthouse steps in 1931.
Traversing the line between the Old South and New South, Grace will have to dig into the past to uncover Athena's true crime.