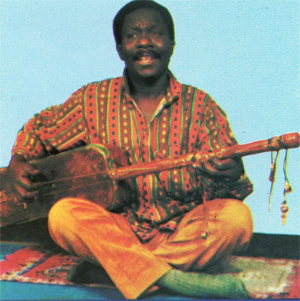 Gnawa sintir musician and pioneer Mahmoud Guinia passed away Sunday, August 2nd after a prolonged illness. Mr. Guinia was 64.
Considered the Godfather of Gnawan music, Mr. Guinia was born in 1951 in Essawira (Essaouira) and was a major force for Gnawa music tradition in Morocco. Mr. Guinia started playing the sintir (also known as sentir and guimbri), a plucked stringed lute, at the age of 12. His passion for music was passed down from his famed father musician Maallem Boubker Guinia who died in 2000. Earning the title of Maallem or master, his brothers Moktar Guinia and Abdella Guinia have also achieved the title of Maallem of the Essawira style of the Saouiri style.
Mr. Guinia would go on to travel worldwide and spread the riches Gnawa music at music festivals in France, Japan and the United States, often collaborating with the likes of Carlos Santana, Aly Keita, Adam Rudolph and Will Calhoun.
He started playing sintir at the age of 12, and is regarded as a master of fusion music by virtue of his participation in various worldwide festivals in France, Japan, Italy and the US along with Carlos Santana, Pharoah Sanders, Peter Brotzmann, Adam Rudolph, Will Calhoun, Issaka Sow and Aly Keita.
His recordings include a live concert of the Lila ceremonies along with some studio sessions on the Moroccan Fikriphone label, Tichkaphone on the Sonodisc label and Musique Tanawite.
Mr. Guinia is survived by his wife Malika and children Bouchra, Houssam and Hamza.
Author:
TJ Nelson
TJ Nelson is a regular CD reviewer and editor at World Music Central. She is also a fiction writer. Check out her latest book, Chasing Athena's Shadow.
Set in Pineboro, North Carolina, Chasing Athena's Shadow follows the adventures of Grace, an adult literacy teacher, as she seeks to solve a long forgotten family mystery. Her charmingly dysfunctional family is of little help in her quest. Along with her best friends, an attractive Mexican teacher and an amiable gay chef, Grace must find the one fading memory that holds the key to why Grace's great-grandmother, Athena, shot her husband on the courthouse steps in 1931.
Traversing the line between the Old South and New South, Grace will have to dig into the past to uncover Athena's true crime.