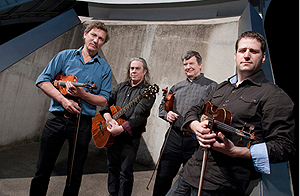 The talented Celtic Fiddle Festival is celebrating 20 years of some of the finest music from Ireland, Brittany (France), Scotland, and Quebec. They will embark on the second half of their anniversary tour, covering the West and Midwest, beginning in Portland, Oregon (home to bandleader Kevin Burke) on April 10, with dates in California, Arizona, Michigan, Minnesota, Wisconsin, and Illinois.
The fiddle masters bring along their anniversary album, Live in Brittany, their sixth recording and a beautiful collection of new and old tunes, recorded in concert in France last year. Kevin Burke (Ireland), Christian Lemaître (Brittany, France) and André Brunet (Quebec, Canada) display their fascinating international and individual styles. Along with acclaimed guitarist Nicolas Quémener from Brittany, a master of open tuning, the group combines talents and musical traditions for an evening of dazzling energy and subtle grace.
Celtic Fiddle Festival began as a one-off tour in the early 1990s, nevertheless proved so popular that the group has been performing and recording together ever since. Kevin and Christian were founding members, along with Johnny Cunningham, the late, great Scottish fiddler, who remains much missed as the festival continues in his memory. (The group's original guitarist, Boston's superb John McGann, also passed long before his time in 2012.)
"The inspiration that Johnny, Christian and I had for the Celtic Fiddle Festival has proven to be an enduring concept," says Burke. "It highlights the unique qualities of three distinct fiddle traditions. At the same time, something powerful and very special is generated when we all play together."
Celtic Fiddle Festival's new album Live in Brittany was recorded in January in the beautiful, centuries-old French town of Guémené-sur-Scorff, on a frosty night with an excited audience from as far away as Paris. The album encapsulates that night and the beauty and vitality of this ageless music. The CD includes two beautiful tunes composed by André, "Valse du Chef de Gare" (The Station Master's Waltz), and "Quand Soufflent Les Anges" (When Angels Breathe), as well as three traditional sets —Irish reels, Breton gavottes, and Quebecois jigs.
April 2014 West Coast & Midwest USA
10 Portland OR, 8 pm, Alberta Rose Theatre, 3000 NE Alberta St.,
11 Sebastopol CA, 8 pm, Sebastopol Community Cultural Center, 7985 Valentine Ave.
12 Berkeley CA, 8 pm, Freight & Salvage, 2020 Addison St.
13 Felton CA, 7 pm, Don Quixote's International Music Hall, 6275 Highway 9
16 Flagstaff AZ, 7 pm, Coconino Center for the Arts, 2300 N. Fort Valley Rd., 928-779-2300
17 Tucson AZ , 7:30 pm, Berger Performing Arts Center, 1200 W. Speedway
19 Minneapolis MN, 8 pm, The Cedar Cultural Center, 416 Cedar Ave South
22 Milwaukee WI, 8 pm, Shank Hall, 1434 N. Farwell Ave
23 Ann Arbor MI, 8 pm, The Ark, 316 S. Main, 734-761-1818
24 Chicago IL, 8 pm, Old Town School of Folk Music, 4544 N Lincoln, 773.728.6000,
25 East Lansing MI, 8 pm, Ten Pound Fiddle at Community Music School, 4930 S. Hagadorn
Buy Live in Brittany
Author:
World Music Central News Department
World music news from the editors at World Music Central