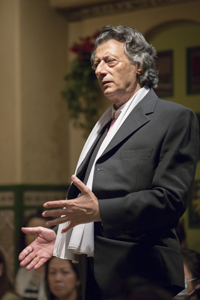 Direct from Andalucía in southern Spain, Gypsy flamenco's compelling icon "El Funi" (Miguel Peña Vargas) will return to New York on Wednesday, April 16 2014 for his first solo concert in New York City in more than 20 years. El Funi, is a well-known, charismatic icon of Spanish Gypsy culture. He will perform the oldest styles of Gypsy Flamenco song and dance.
With his gracious rooster-like stance, trademark white scarf and impeccable suit, El Funi puts on mesmerizing performances. El Funi will be joined by Ismael de la Rosa, Sonia Olla and accomplished flamenco guitarist Juan del Gastor.
Juan del Gastor was born in Moron de la Frontera and is a nephew of the legendary guitarist Diego del Gastor. A soulful guitarist, he has accompanied such revered singers as Camarón de la Isla and Fernanda de Utrera. A natural entertainer, Juan loves to sing and dance and his contagious good humor and spontaneity have sparked many an impromptu flamenco fiesta.
Wednesday, April 16 2014
Miguel "El Funi" with Juan Del Gastor
Flamenco Gitano at Elebash Hall – 365 Fifth Ave between 34 and 35 Street, NYC
Doors at 6pm, Show at 7:00pm
Tickets: $25 / $20 Graduate Center Members and NYC Students
Tickets Available Online or by Phone: 1-800-71-TICKETS
Author:
World Music Central News Department
World music news from the editors at World Music Central