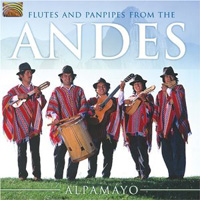 Alpamayo
Flutes and Panpipes From The Andes (Arc, 2008)
The haunting music on this album evokes the highlands of the Andes mountains in South America, with a mix of natural beauty and tragic history. The group Alpamayo consists of Edward Soto Bazan on guitar, Alex Gallegos Torre on charango (short South American guitar), and Elmer Espinoza Valencia on vocals. They are accompanied by Florie Brown on violin, Frank Fischer on keyboards and Pablo Carcamo on synthesizer.
Our picks on this fine album include Simiruco and San Miguel De Morropon. Tabacundena and Sikuri De Despedida also stand out with their fine instrumentation.
Buy Flutes and Panpipes From The Andes
Author:
Madanmohan Rao
Madanmohan Rao is an author and media consultant from Bangalore, and global correspondent for world music and jazz for World Music Central and Jazzuality. He has written over 15 books on media, management and culture, and is research director for YourStory Media. Madan was formerly World Music Editor at Rave magazine and RJ at WorldSpace, and can be followed on Twitter at @MadanRao.